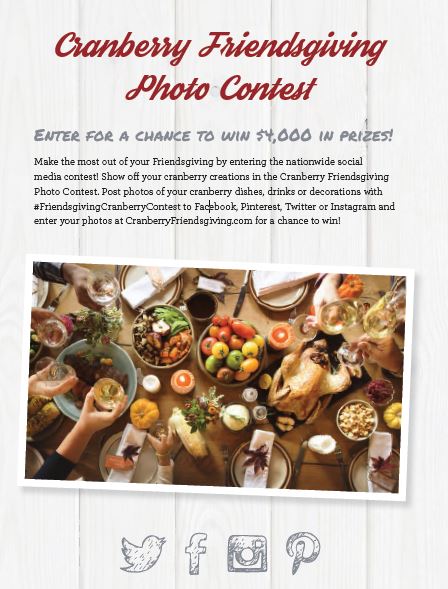 Friendsgiving – the alter-ego to Thanksgiving and the holiday undoubtedly supported by Millennials, continues to grow in popularity as it adds a new spin on the traditional celebration. For many, Friendsgiving is becoming the social event that cannot be missed. Millennials are breaking the mold by transforming sit-downs into potlucks, roasted turkey into turkey meatballs and using mom's cranberries to create sophisticated cranberry cocktails. The Cranberry Marketing Committee (CMC) acknowledges the importance of this occasion, and is kicking-off its second annual Cranberry Friendsgiving Photo Contest from October 17 – December 19. The contest offers $4,000 in prizes for the most unique and special ways cranberries are enjoyed and incorporated in holiday food, beverages and décor on social media with #FriendsgivingCranberryContest, and then uploaded at CranberryFriendsgiving.com.
This Friendsigiving, small bites will take center stage at dinner tables across the country, and this includes the unassuming cranberry. With their bright-hued reds and pearl-like shape, cranberries are more than a tasty condiment – they also enhance beverages, enrich food, and enliven tablescapes with bejeweled wreaths and floral arrangements.
All of this means that the demand to use cranberries in non-traditional ways continues to grow. According to a new survey by the CMC:
80% of the U.S. population enjoys cranberries and 44% voted them as one of the most versatile fruits.
58% of cranberry eaters eat this fruit in order to enjoy a traditional holiday dish.
At 44%, that is more than two in five Americans who claim that cranberries are enjoyable when prepared in a variety of ways, pair well with other ingredients, and are easily incorporated into sweet and savory meals.
One-third of millennials couldn't imagine Friendsgiving celebrations without… cranberries!
"We've always known that cranberries' history, versatility and flavor make them a special part of traditional and now modern holiday celebrations. This is why we're committed to continuing our Cranberry Friendsgiving Photo Contest as way to inspire and encourage millennials' desire to share their creative cranberry ideas," said Michelle Hogan, Executive Director of the Cranberry Marketing Committee.
To continue the Friendsgiving festivities this holiday season, CMC will also partner with influential holiday décor/recipe and Friendsgiving experts, Melissa Johnson of Best Friends for Frosting, and Elsie Larson and Emma Chapman of A Beautiful Mess. Throughout the season, the trio will dish out unique recipes and décor ideas, as well as inspirational tips for using cranberries in holiday celebrations. Folks are encouraged to tune into the #FriendsgivingCranberryContest Twitter Party featuring Melissa on November 10, 2016 at 7 pm (EST) to learn tips for throwing the most memorable – and Instagram-able Friendsgiving.
Additional Contest Details
Post party pics featuring cranberry dishes, drinks and décor using #FriendsgivingCranberryContest on social media and at CranberryFriendsgiving.com for a chance to win
A total of eight $500 winners will be announced
No limit on the number of submissions entered to win
This contest has ended.
For more information on Friendsgiving, visit uscranberries.com, or to receive cranberry-inspiration, follow @uscranberries on Twitter, Instagram, Pinterest and Facebook.