Who of us hasn't come back from a period of gluttony like a vacation or the holidays and thought, "OK, I need to get back on track, I should probably have a salad."?  When packed with vegetables, fruit and proteins, salads are a standard vehicle for transporting various vitamins and nutrients into your body.  They are a classic go-to meal to reach for when trying to make healthy eating choices and you can often feel good about eating a salad.
Then why do salads sometimes get a bad "wrap"?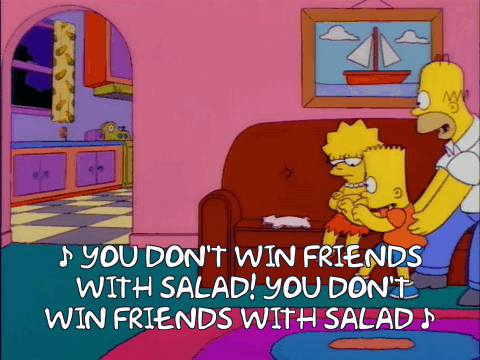 Homer Simpson once said, "You don't win friends with salad."  (And then he, Bart and Marge form a conga line and chant that over and over.  It's actually a rather catchy tune, but I digress…)
Like Homer, some people find salads unimpressive.  Salads can be seen as boring and monotonous, lacking flavor and variety.  It can be hard to get excited by the same old ingredients staring back at you from the bowl or plate.  You want to be good, you want to eat right, but ugh, really, salad again?
And that's where the power of a little red berry comes in.  Cranberries are the perfect way to incorporate a pop of color, a layer of texture and a burst of unique flavor to salads.  Cranberries pair exceptionally well with most other fruits and vegetables, adding a sweet, tart punch and taking a salad recipe from meh to magnificent!
We say, with the help of America's Original Superfruit®, you can win friends with salad.  And in celebration of May as national #saladmonth we're sharing our favorite cranberry salad (and dressing) recipes to help you make better eating choices.
Find even more recipes at uscranberries.com.