Delhi witnessed the most premium Culinary & Mixology Competition for budding chefs and mixologists at the coveted AAHAR– International Food & Hospitality Fair 2017. In addition to the excitement and the grandeur, the competition also turned out to be a great platform for the budding talent to be seen by key visitors and industry experts. The prime objective of this campaign was to highlight the uniqueness of the following US Premium Agricultural Products in the Indian HRI Industry: US Cranberries, Washington Apples, USA Pears, California Walnuts and US Pecans.
The show got an excellent start with Scott Sindelar, Minister Counselor for Agricultural Affairs, US Embassy, New Delhi along with other dignitaries, gracing the occasion for the inauguration ceremony. "It's great to be here at AAHAR 2017 as the event has a plethora of activities for our discerning consumers. India is an important market for us and we strive to bring in the best products to our consumers. This show is a wonderful opportunity for our target audience to taste and experience a wide range of US Premium Agricultural Products," Sindelar said.
T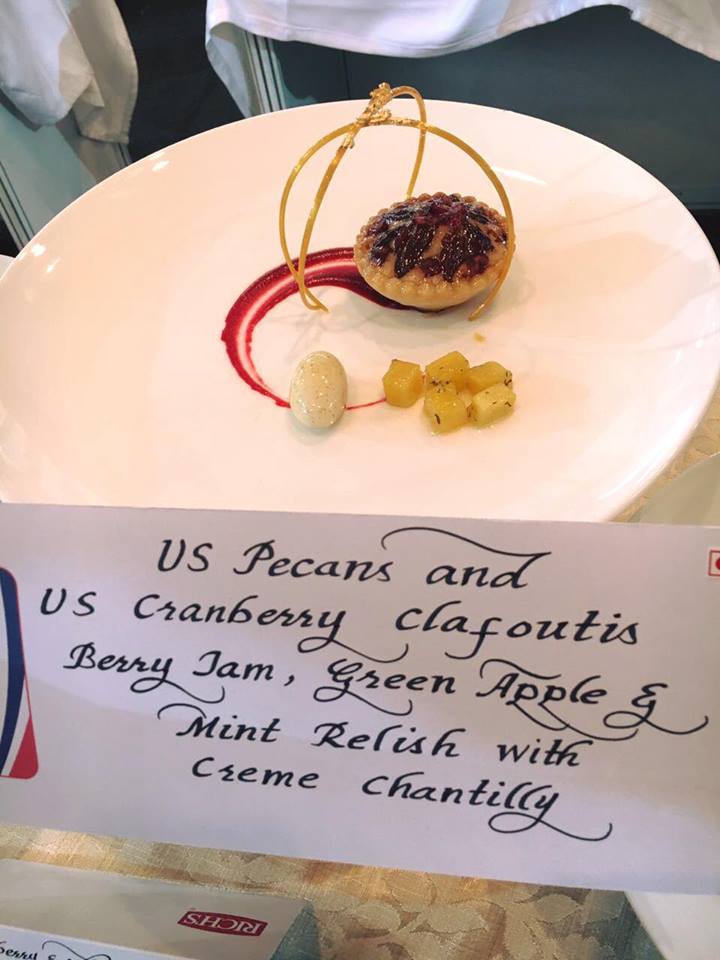 he Culinary & Mixology Competition was a great success with participation from more than 60 chefs and mixologists from Delhi and other cities in North India. Enthusiastic and talented participants created innovative recipes using the finest US Premium Agricultural Products such as US Cranberries, Washington Apples, USA Pears, California Walnuts and US Pecans as the main ingredients. Chef Akash Khandelwal from ITC Maurya and Mr. Kuber from Crowne Plaza were declared as the winners of the culinary and mixology competitions respectively. The winning creations were US Pecans, US Cranberry Clafoutis, Berry jam, Green Apple and Mint Relish with Crème Chantilly, California Walnuts; and USA Pears Pudding, Walnuts Crisp, Sugar Coated Sable, Star Anise and Amaretto Crème with Orange & Grand Marnier Sauce and Melon and Berries Magic chosen by the esteemed jury comprising members of the organizing committee and reputed Food & Beverage industry members.
Talking about the initiative, Keith Sunderlal, India representative, US Cranberry Marketing Committee, said: "We would like to congratulate the winners of the Culinary & Mixology Competition for creating such innovative recipes using US Premium Agricultural Products. Clearly, the participants have taken the competition to another level by their outstanding performance. We are extremely motivated by the response we got from the participants as well as the visitors. Looking at the show's success, we are confident that we managed to strike the right chord with our audience."
About AAHAR 2017
As the largest food trade show in India, AAHAR provides an unparalleled venue to reach Indian food buyers and introduce new products to the emerging Indian market. It is the largest show of its kind in South Asia with the 2016 edition spread over 45,000 sqm (approx.) with 872 exhibitors including foreign participants from 22 countries, close to 45,000 visitors, global participation from countries like, Australia, Afghanistan, Canada, Denmark, Germany, Japan, Korea, Poland, Saudi Arabia, Turkey, UAE, USA, etc. and high level of satisfaction with 8% of exhibitors desiring repeat participation.