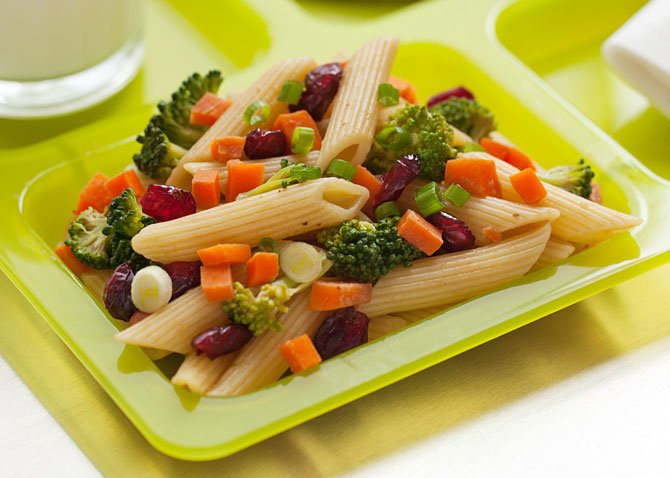 71% of school foodservice professionals use cranberries in salads – according to a 2016 survey.
Put America's Original Superfruit® on Your Menu
Cranberries are a versatile, budget-friendly fruit that can be easily added to a variety of sweet and savory kid-friendly recipes for breakfast, lunch and snack. Whether dried, in sauce, frozen or fresh, cranberries are available year-round and count toward school foodservice fruit servings required by the USDA National School Lunch Program (NSLP).
Currently, dried cranberries are on the USDA Foods Available List for School and Institutions. Ask your foodservice distributors for cranberries or request them in your USDA purchases. If you want to see other cranberry products on this list, let the USDA know by emailing USDAFoods@fns.usda.gov

Download
Foodservice Toolkit

Go to
Foodservice Recipes

Download
Educational Poster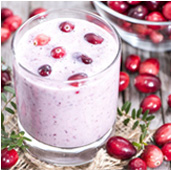 Sprinkle dried cranberries over fruit and yogurt parfaits
Blend frozen cranberries into breakfast smoothies
Use cranberry sauce as the base of a fruit salsa
Boost the flavor in barbecue sauces by stirring in cranberry sauce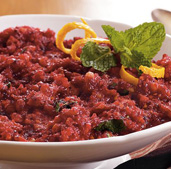 Substitute dried cranberries in place of other dried fruits in recipes
Make fresh or frozen cranberries the star of your next relish or chutney
Use cranberry sauce as a side for any poultry, pork or beef dish
Stir dried cranberries into whole-grain dishes, such as pasta or quinoa salad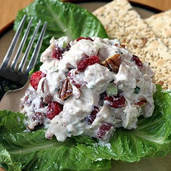 Add dried cranberries to casseroles
Mix dried cranberries into chicken or turkey salads
Fold fresh or frozen cranberries into muan batters and bread doughs
Combine cranberry sauce with cheese for a sweet and savory quesadilla filling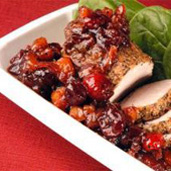 Spread cranberry sauce on chicken or turkey sandwiches and wraps
Mix frozen cranberries into applesauce
Include dried cranberries in every serving of trail mix
Toss dried cranberries onto prepared salads or offer them on salad bars
Meet NSLP Guidelines with Cranberries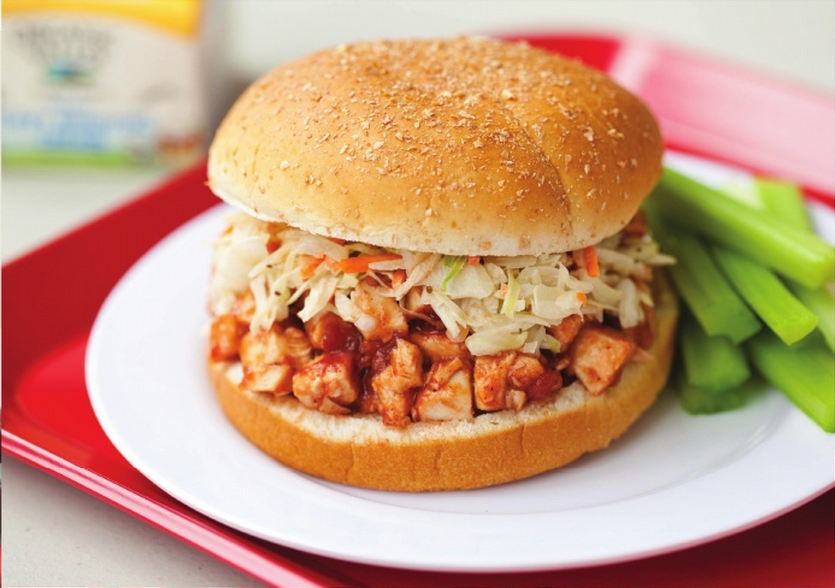 NSLP Guideline: Minimum serving of fruit that can credit toward the fruit requirements is 1⁄8 cup1
Since dried fruit is creditable at twice its volume, even 2 Tbsp (1⁄8 cup) of dried cranberries per serving counts toward daily fruit requirements.
NSLP Guideline: Reduce sodium in meals and adhere to weekly average sodium restrictions1
Adding cranberries – which are naturally low in sodium – to meals enhances nutrient content and flavor. Canned cranberry sauce contains just 7 mg of sodium per 1⁄2 cup serving and dried cranberries have only 2 mg per 1⁄4 cup serving.2,3,4
NSLP Guideline: Meals must fit within the designated calorie range for each age group1
One-quarter cup of dried cranberries has a similar calorie content to other dried fruits, making it a suitable choice while staying within calorie limits.
Cranberry Buying Guide for Children
Cranberries: A Reason for Every Season
Cranberries are a great way to add more variety, color, flavor and health benefits to school meals. They can help fulfill USDA fruit requirements in a range of recipes, from yogurt parfaits to veggie wraps, and because they're available dried, frozen, fresh or as sauce, they are easy to add to your menu any time of year. Entitlement dollars can be used to order cranberry products that are on the USDA Foods Available List.1 Cranberries can also be easily purchased through your school's food vendors or directly from cranberry suppliers.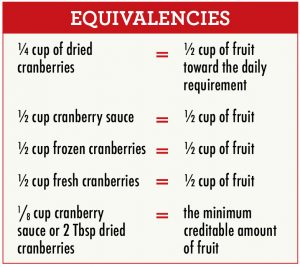 Nutrition Standards in the National School Lunch and School Breakfast Programs; Final Rule." 77 Federal Register 17 (26 January 2012), pp. 4088-4167.
United States Food and Drug Administration. Guidance for Industry: A Food Labeling Guide (9. Appendix A: Definitions of Nutrient Content Claims). Updated October 2009.
USDA National Nutrient Database for Standard Reference Legacy Release April, 2018; 09081, Cranberry sauce, canned, sweetened; https://ndb.nal.usda.gov
USDA National Nutrient Database for Standard Reference Legacy Release April, 2018; 09079, Cranberries, dried, sweetened; https://ndb.nal.usda.gov