7 Layer Cranberry Bar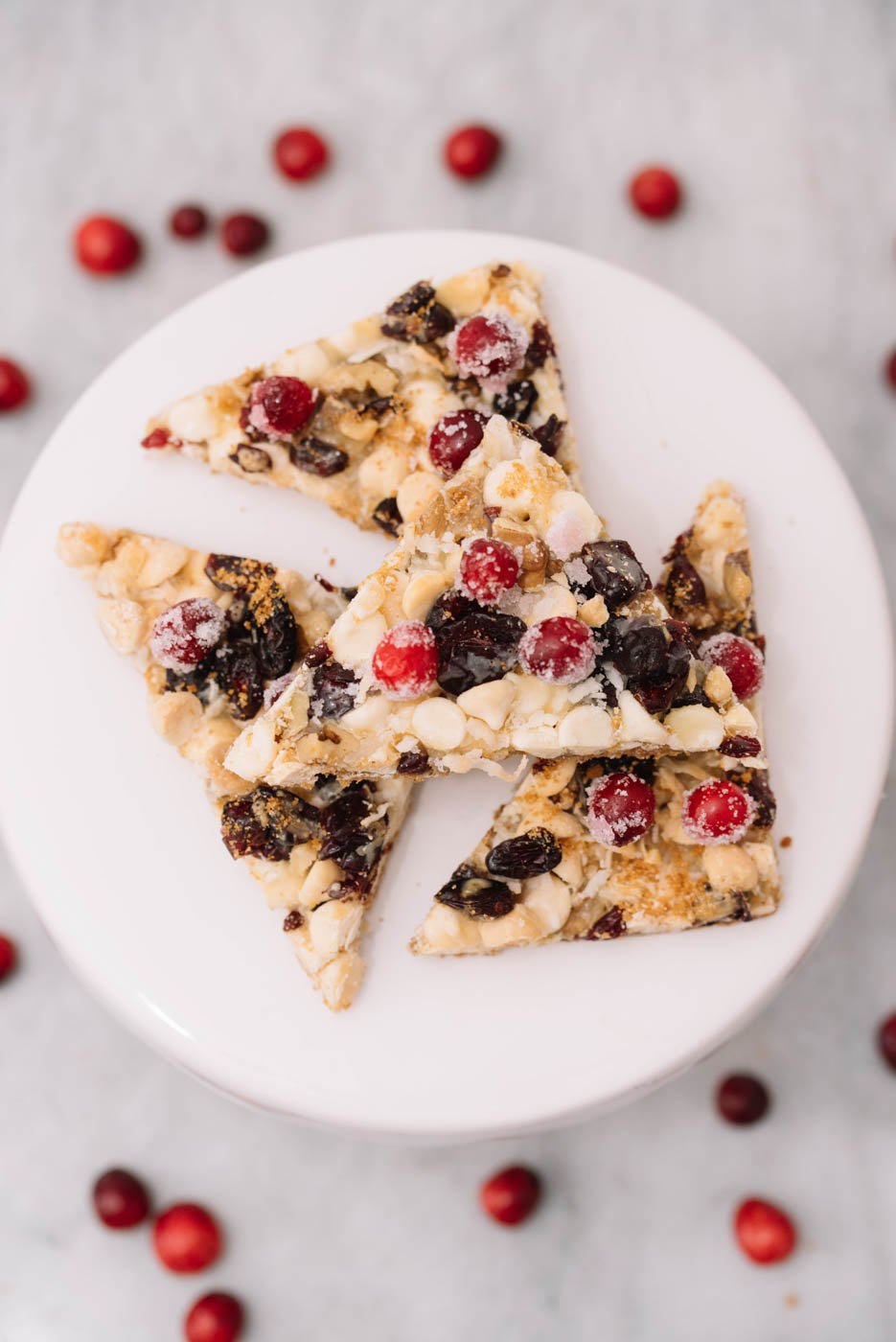 Ingredients
3 cups graham cracker crumbs

¾ cup sugar

10 tablespoons butter, melted

1 can sweetened condensed milk

2 ¼ cup white chocolate chips

1 cup chopped walnuts

1 cup shredded coconut

1 ¾ cup dried cranberries

For candied cranberries (optional)

4 cups sugar, divided

1 ¾ cup water

1 teaspoon vanilla

12 ounces fresh whole cranberries
Instructions
The candied cranberries have to sit overnight, so make sure to make them ahead of time!

In a saucepan combine 2 ½ cups sugar and all of the water and vanilla. Cook over medium heat until sugar is fully dissolved, stirring only once or twice.

Once sugar is dissolved, add cranberries and remove from heat.

Let the cranberries cool completely before placing in fridge overnight.

When you are ready to use the cranberries, strain them (you can keep the syrup if you'd like, but you wont need it for this recipe).

Add cranberries to 1 ½ cups sugar and mix together until all cranberries are coated in sugar.

Let the candied cranberries sit on baking dish for at least 2 hours before using.

Next, preheat oven to 350 degrees for the cranberry bars.

Mix together graham cracker crumbs, sugar, and melted butter; press into prepared pan for an even crust. I used a 17.5" x 12.5" baking sheet.

Bake for 7-9 minutes.

Pour half the can of sweetened condensed milk evenly onto the crust. You can do this while the crust is still warm.

In a bowl, mix together white chocolate chips, walnuts, coconut, and dried cranberries. When ready, pour onto crust and distribute evenly.

Pour the second half of the sweetened condensed milk over the toppings evenly, making sure to get into the corners of the pan.

Bake for 18-20 minutes or until coconut begins to become golden brown.

Let cool completely before cutting.