Cranberry Butterscotch Squares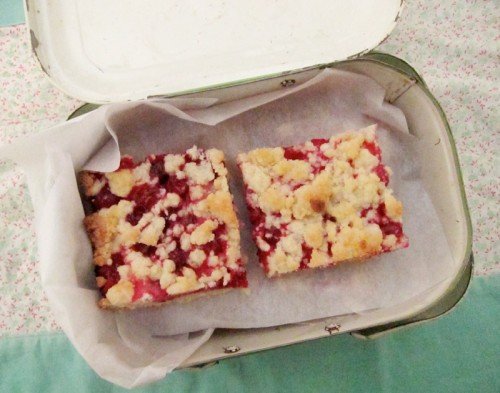 Ingredients
Ingredients for Cranberry Butterscotch Squares
3 cups puffed rice or wheat cereal

1/4 cup pumpkin seeds

1/2 cup chopped walnuts

2 T wheat germ

1/3 cup dried cranberries

1 tsp. pure Vanilla Extract

1/2 cup Honey

1 tsp. cinnamon

Pinch of salt

3/4 cup butterscotch chips
Instructions
Directions
Preheat oven to 300 degrees F.

Using parchment paper, line an 8 X 8 baking pan, making sure to have an overhang on two sides of pan. In large bowl, mix puffed cereal, pumpkin seeds, walnuts, wheat germ and dried cranberries together.

In small saucepan add vanilla extract, honey, cinnamon and pinch of salt. Stir constantly until dissolved and pourable. Pour over the dry ingredients and mix well until all is coated. This will be sticky. Cool down for 3-5 minutes. Fold in butterscotch chips and mix well.

Pour mixture into lined pan and spread with a spatula, pressing firmly to flatten so that it reaches all sides of the pan.

Bake 30-35 minutes or until lightly browned. Do not overcook or it will burn. Once out of the oven, run a knife along unlined sides so that the bars dont stick to the pan. Cool in the pan on a wire rack for about 50 minutes.

Lift out of pan by parchment paper. Peel off paper and cut into squares. Should make 12-16 squares depending on how big you cut them.