Baked Brie & Cranberries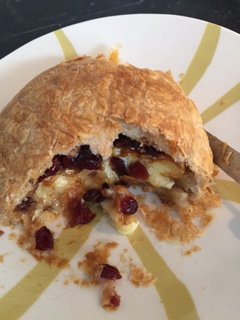 Ingredients
1/4 c. dried cranberries

1 Tbsp water

1/4 c. pecans (or other nuts)

1/3 c. flavored butter (eg. pumpkin)

8 oz. brie wheel

1 egg

1 puff pastry dough
Instructions
Heat oven to 400 degrees.

Lay out the room temperature pastry dough.

Pile cranberries, pecans, butter in the center.

Top with brie wheel.

Fold in the edges of the dough, wrapping up the ingredients in a little bundle.

Combine egg and water.

Brush any seams with the egg mixture.

Flip the bundle onto a baking sheet (egg-washed seams side down).

Bake for 25 minutes or until golden brown.