Cranberry Almond Bread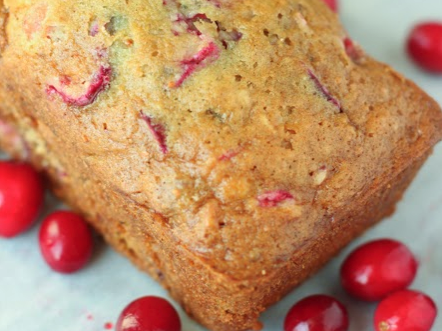 Ingredients
2 cups all-purpose flour

1 cup sugar

2 teaspoons baking powder

1 teaspoon salt

1 egg

1/4cup milk

1/2 cup butter

2 teaspoons almond extract

1 1/2 cups fresh or frozen cranberries

1 tablespoon sugar

1/4 cup sliced almonds
Instructions
1. Preheat oven to 375 F.

2. Butter an 8 x 4 x 2 loaf pan and set aside.

3. Combine flour, sugar, baking powder, and salt in a medium mixing bowl. Combine egg, milk, butter, and almond extract in a separate mixing bowl. Add wet ingredients to dry ingredients, mixing just until moist. Stir in cranberries.

4. Spread batter in the buttered loaf pan. Sprinkle with sugar and almonds. Bake for 45 minutes at 375 F.

5. Reduce heat to 350 F. Bake for an additional 30 minutes or until a toothpick inserted into the center comes out clean.