Cranberry Almond Chocolate Chip Quick Bread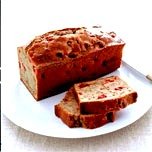 Ingredients
1/2 cup Bobs Red Mill Almond Flour

1/2 cup whole wheat flour

1 tsp baking powder

1/2 cup fresh Cranberries

1/2 cup milk chocolate chips

1 cup California Olive Ranch Mild & Buttery Artois Ranch Olive Oil

2/3 cup light brown sugar, packed

2 large eggs

1/2 Vanilla Bean, scraped
Instructions
Directions
Preheat oven to 350 degrees. Grease a loaf pan with a little olive oil. Set aside. Whisk together flours and baking powder and stir in fresh cranberries and chocolate chips. Reserve. In a medium bowl, whisk together the California Olive Ranch Mild & Buttery Artois Ranch Olive Oil, sugar, and eggs.Add vanilla and incorporate. Add dry ingredients to the wet ingredients and stir until incorporated. Pour into loaf pan and bake for 35-45 minutes, until bread is done. To check doneness, touch the center of the cake and if it it springs back, its ready.

Chefs Note: When baking with olive oil, you want oil that will not only add moisture to your baked goods, but will also add a mild underlying olive depth that pairs perfectly with the nuttiness of Bobs Red Mill Almond Flour.

Using almond flour in quick breads provides flavor, but more importantly, a supportive crumb structure. Living in New England , fresh cranberries were an obvious addition to cut the sweet buttery taste and add some tartness. Milk chocolate chips can be substituted for dark chocolate chips as well. Serve with fresh cranberries as a treat for a holiday brunch or top with whipped cream and shaved chocolate for a special dessert.
Source
Recipe courtesy of: Marnley Rodriguez for the California Olive Ranch.