Cranberry and Pumpkin with Roasted Chicken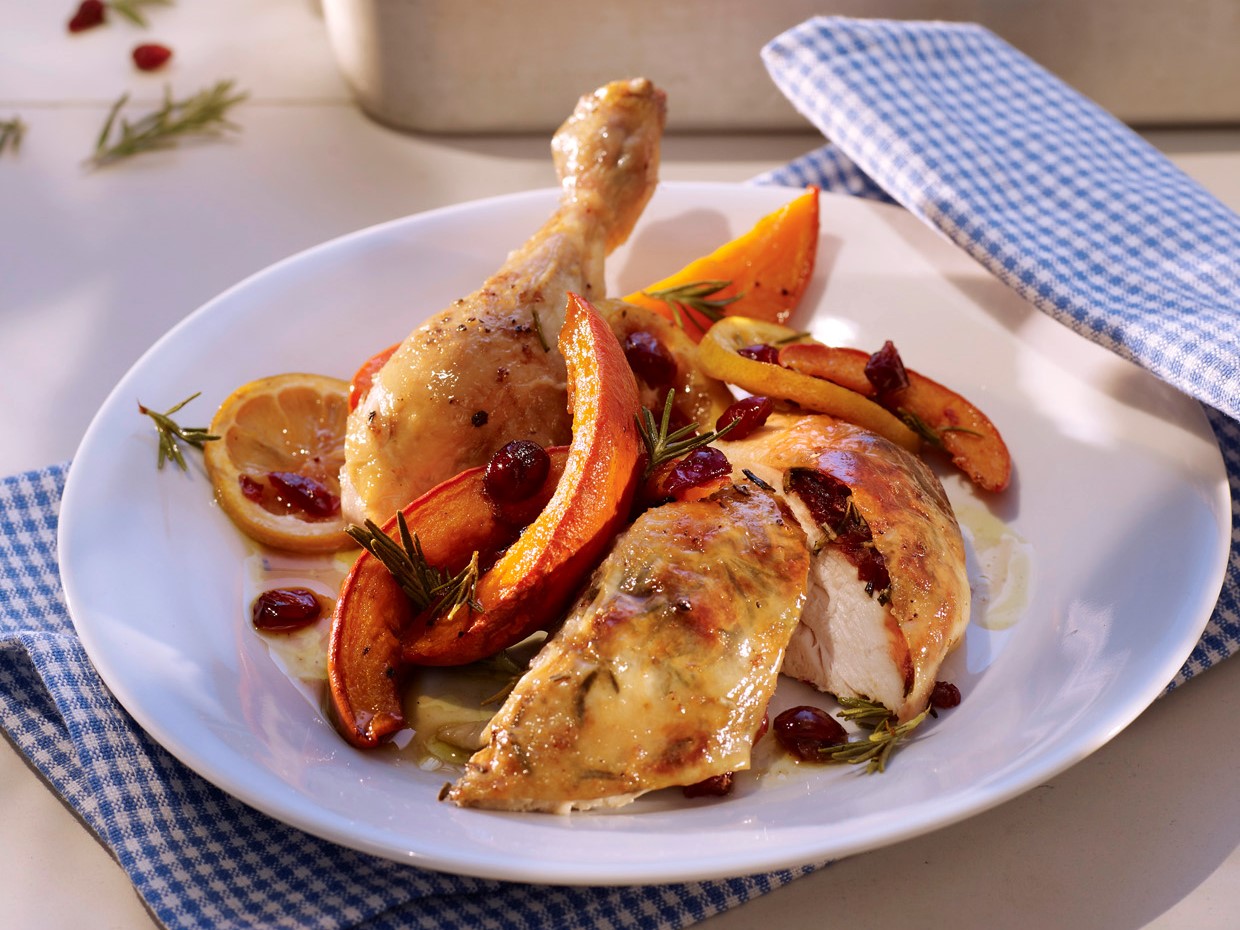 Ingredients
3 sprigs of rosemary

60 g dried cranberries

1 organic lemon

4 tablespoons olive oil

Salt & pepper

½ teaspoon sugar

1 chicken (1.7 kg)

600 g Hokkaido pumpkin
Instructions
Directions
Pull the rosemary needles from the stems. Finely chop 1/3 of the rosemary needles and 1/3 of the cranberries and mix them together. Wash and dry the lemon. Squeeze out 1 teaspoon of lemon juice. Cut the rest of the lemon into slices.

Stir 2 tablespoons of oil with pepper, salt, lemon juice and sugar. Rinse the chicken on the inside and outside with cold water and pat it dry with a paper towel. Place the chicken on the oven tray. Carefully pull the skin away from the breast of the chicken so that a "pocket" is formed. Fill this with the cranberry-rosemary mixture. Rub the chicken all over with the seasoned oil. Bind the legs together with kitchen twine. Roast the chicken in a preheated oven at 200 degrees (convection 180 degrees) in the bottom third of the oven for 1 hour to 1 hour 10 minutes.

In the meantime, cut the pumpkin in half and scoop out the soft fruit flesh and the seeds with a spoon. Cut the pumpkin into large slices and mix it with slices of lemon, 2 tablespoons of oil, rosemary needles, salt and pepper. After the chicken has been roasting for 35 minutes, spread the pumpkin mixture around it on the oven tray. Add the cranberries 10 minutes before the end of the roasting time.