Cranberry Apple Butter Cake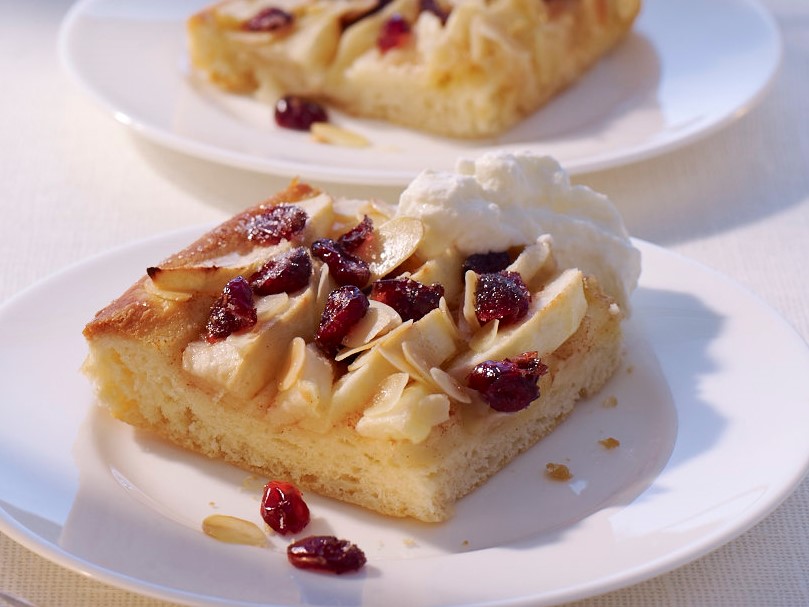 Ingredients
- 450 g flour

- 25 g fresh yeast

- 130 g sugar

- 200 g soft butter

- 2 eggs (medium)

- 200 ml lukewarm milk

- 1 pinch of salt

- ½ teaspoon ground cinnamon

- 600 g apples (for instance, Russet or

Holsteiner Cox)

- 2 tablespoons lemon juice

- 80 g dried cranberries

- 40 g sliced almonds
Instructions
Directions
Knead the flour, yeast, 50 g sugar, 50 g butter, eggs, milk and salt with the dough hook of the hand mixer for 5 minutes. Cover the cake batter and leave it in a warm place for 40 minutes.

Pour the cake mixture into a greased, deep baking tray ( 40 x 30 cm) and spread it evenly across the tray with flour-coated hands. Leave it for another 20 minutes.

Whisk 150 g butter, 50 g sugar and cinnamon with the whisk of the hand mixer until creamy. Peel the apples, cut them into quarters, remove the core and slice them into thin pieces. Mix with lemon juice.

Make holes close to each other in the cake batter with your finger. Put the cinnamon-butter mixture in an icing bag with a plain nozzle. Squirt the cinnamon-butter into the holes. Spread the apples and cranberries on top of the cake mixture. Sprinkle with sliced almonds and 30 g sugar. Bake in a hot oven at 200 degrees (convection heat 180 degrees) in the bottom third of the oven for 25 minutes.