Cranberry Apple Chutney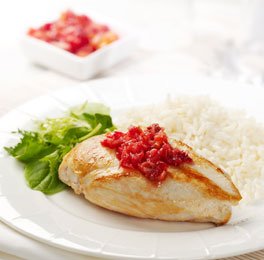 Ingredients
Ingredients for Cranberry Apple Chutney
1 cup chopped onions, white or yellow

2 cloves garlic, minced 3 tablespoons freshly grated ginger root

2 cups of cider vinegar

6 cups apples, peeled and chopped (Pippins or Granny Smiths)

1 sweet red pepper, seeded and chopped

2 cups of brown sugar

2 tablespoons mustard seeds

1 tsp allspice

1 tsp cayenne (start with one and see....)

3/4 lb dried cranberries

1 teaspoon salt
Instructions
Directions
Puree the onions, garlic, and ginger root in a food processor with 1/2 cup vinegar.

In a large stockpot over medium heat, heat all ingredients except for the cranberries, and simmer until thickened.

Add the dried cranberries during the last 15 minutes.

This can be packed and sealed in canning jars, or simply refrigerated until ready to use.