Cranberry Apple Muffins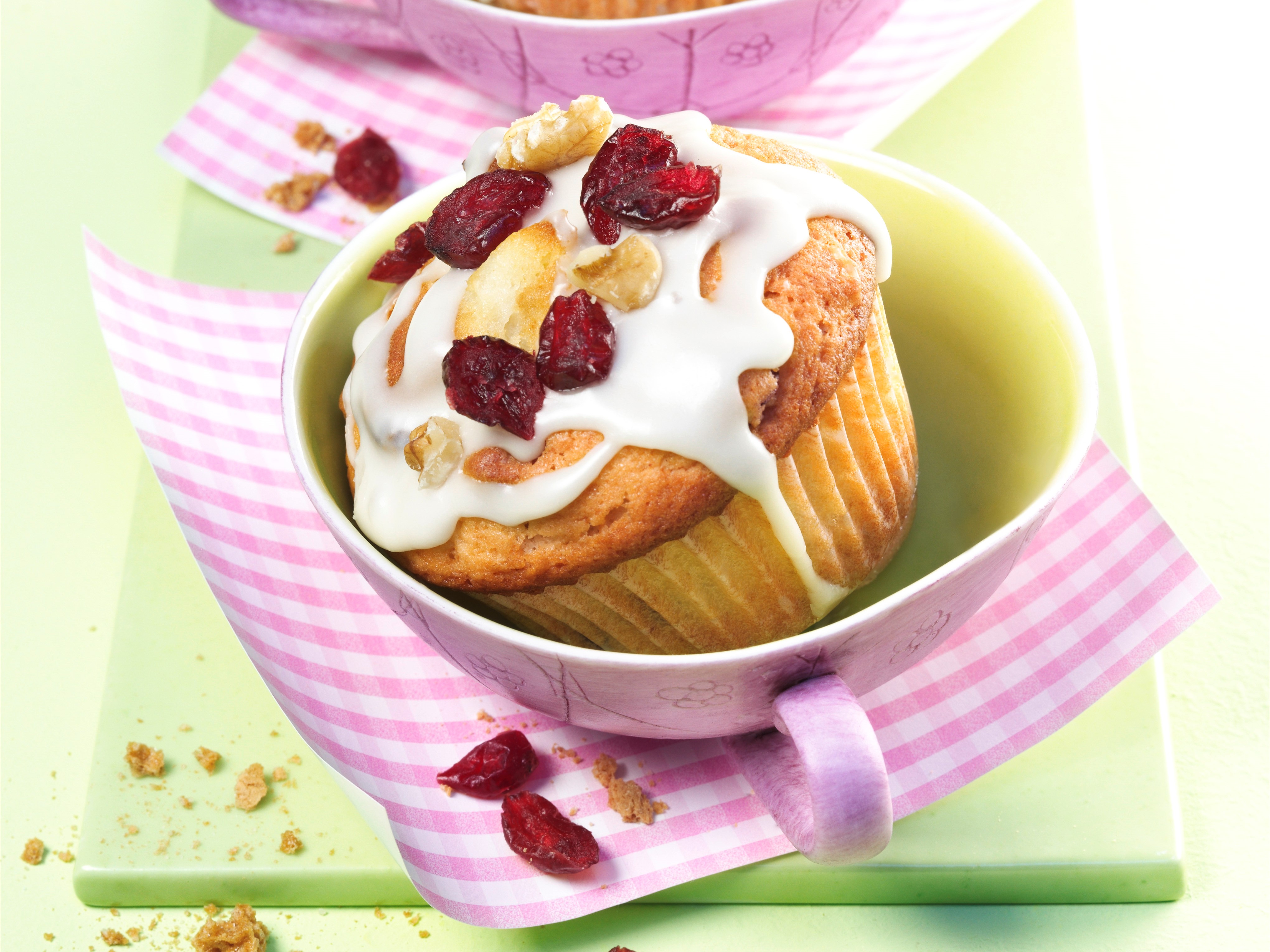 Ingredients
For the dough:

3 Tbsp Amaretto (substitute apple juice)

1/2 cup dried cranberries

3/4 cup butter

2 eggs (M)

3/4 cup yogurt

1/2 cup sugar

1 packet of vanilla sugar

1 cup flour

2 heaped tsp baking powder

2 small apples, e.g Cox Orange

2 Tbsp walnuts

1 2/3 Tbsp Amaretti biscuits

12 baking cups

For the glaze:

1/2 cup confectioners sugar (sifted)

2-3 Tbsp Amaretto (substitute apple juice)
Instructions
Warm Amaretto. Set aside 2 Tbsp of cranberries for garnish. Pour Amaretto over the remaining cranberries and set aside. Melt butter and let it cool. Beat eggs with yogurt, sugar, and vanilla sugar. Add butter. Mix flour with baking powder and stir into batter. Cut apples into quarters, peel, remove core, and chop into small pieces. Chop walnuts (set some aside for garnish). Cut Amaretti biscuits in half. Add cranberries, apples, walnuts, and Amaretti biscuits into batter.

Set paper baking cups into each well of the muffin pan and pour in batter. Bake in a preheated oven at 175 degrees (Gas mark: 2-3, Convection: 160 degrees) for about 25-30 minutes. Let it cool.

Mix confectioners sugar with Amaretto. Spread the glaze on top of muffins and garnish with cranberries and chopped walnuts.