Cranberry Apple Strudel with Walnuts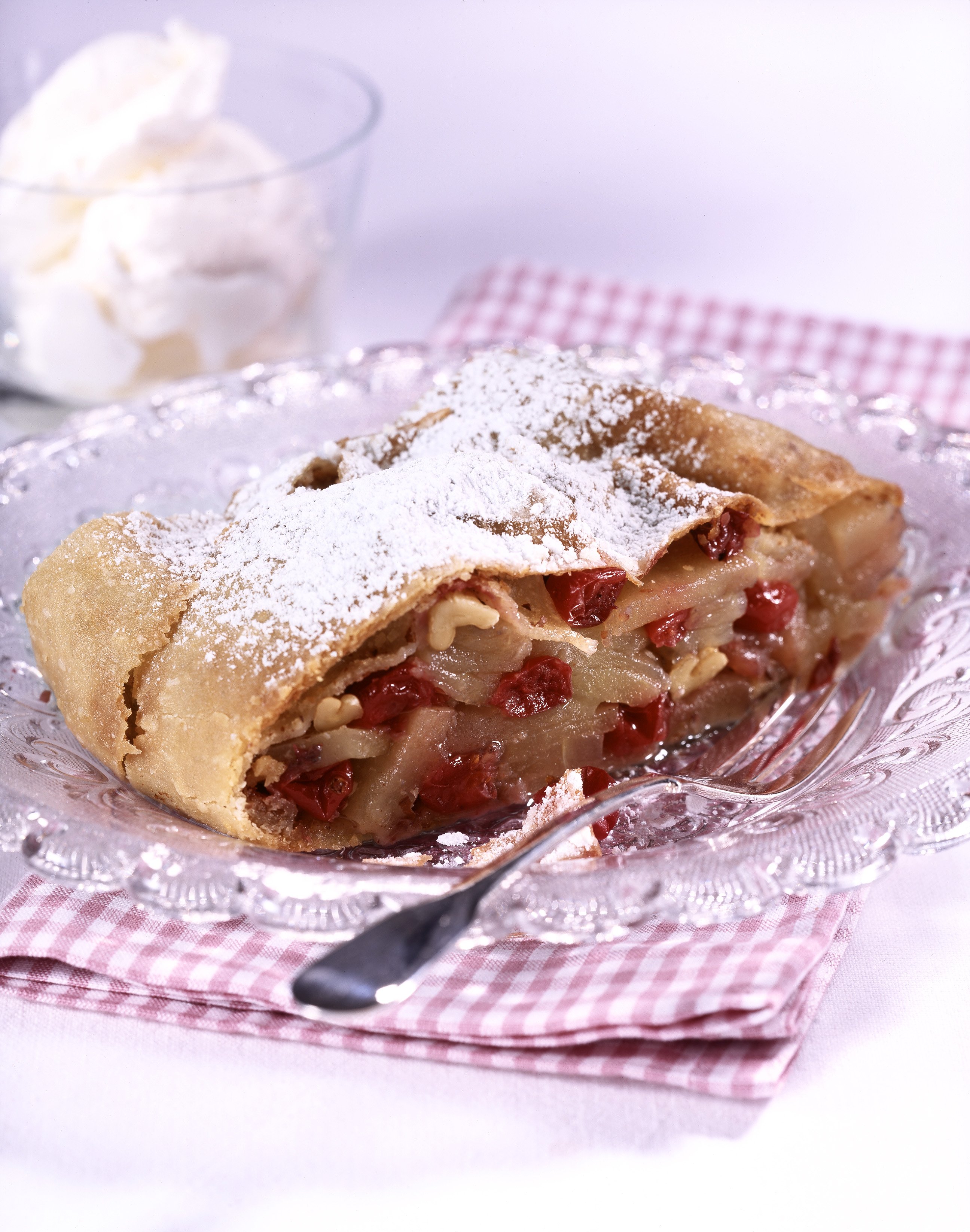 Ingredients
Dough for one strudel:

3/4 cup flour

2 Tbsp sunflower oil

1 egg yolk

(Or one pack prepared strudel dough)

FILLING:

2/3 cup dried cranberries

1/2 cup cranberry nectar

2/3 cup sugar

2 Tbsp lemon juice

1 tsp. cinnamon

3 1/3 cup apples (e.g Braeburn)

1 stick butter

1/2 cup ground walnuts

1/2 cup walnuts
Instructions
Add dried cranberries and cranberry nectar in a pot and bring to a boil over low heat uncovered. Simmer until all the liquid is evaporated.

For the dough, mix flour, oil, egg yolk and 1/3 cup warm water in a bowl. Knead the dough for at least 5 minutes and form it into a ball. Fold your hands (or interlace) and work on the dough ball with even, circulating movement until the surface is smooth. Brush some oil on dough, cover it with foil and let it rest in a warm place for about 30 minutes before rolling out the dough.

Mix the cool cranberries, 2 Tbsp lemon juice and 1 tsp cinnamon. Peel the apples, cut into quarters, and remove the core. Slice the apple pieces and mix the slices with the berries. Melt butter in a small pot. Preheat the oven to 200 degrees Celsius.

Clear space on kitchen counter and sprinkle it with flour. Roll the strudel dough out into a squared form. Afterwards, stretch it to all sides until very thin. Put the floured back of your hand under the dough and do the same with your other hand. Pull it gently and carefully to the edge on the table. Repeat this procedure to all sides till the dough is very thin- cut thick edges off the dough.

Brush the strudel dough with butter and sprinkle with ground nuts. Spread the filling along one-third of the dough. To roll it in, lift the dough and roll it towards the free side. Place the roll with the seam downwards on an oven tray, brush it again with butter and bake for about 30 minutes until golden brown. Brush it 2-3 times with butter. Sprinkle it with confectioners sugar and serve it with cream.