Cranberry Apple Walnut Cookies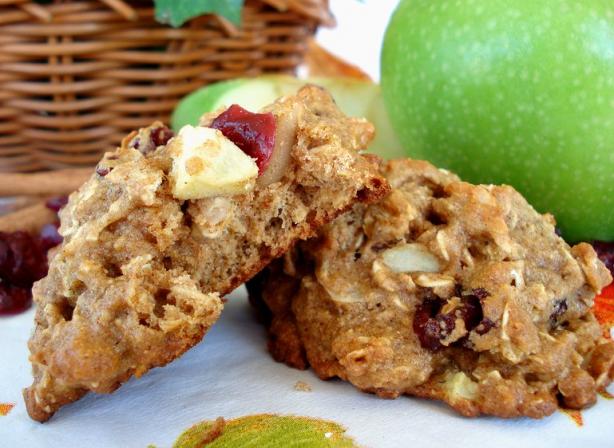 Ingredients
Ingredients for Cranberry Apple Walnut Cookies
1 cup sweetened, dried cranberries

2 tablespoons orange juice

3/4 cup butter

1/2 cup brown sugar

1 egg

1 cup all-purpose flour

1 Granny Smith Apple, finely chopped

1 teaspoon baking powder

1/2 teaspoon baking soda

1/2teaspoon pumpkin pie spice

1/2 teaspoon ground cinnamon

1/2 cup white chocolate chips

1/2 cup chopped walnuts

1 1/3 cup old-fashioned oatmeal

3/4 white chocolate chips

1/4 cup sweetened, dried cranberries, finely chopped
Instructions
Directions
Preheat oven to 375 F.

In a small glass bowl combine dried cranberries and orange juice. Microwave on high for 1 minute. Set aside.

In a large mixing bowl, cream butter and sugars. Beat in the egg until well mixed. Stir in cranberry mixture and chopped apple. Then add flour, baking powder and soda and spices. Mix well. Stir in 1/2 cup of the white chocolate chips, walnuts and oats.

Drop cookie dough by teaspoonfuls onto un-greased cookie sheets. Bake 10-12 min. on a shiny metal cookie sheet; 12-14 min. on an insulated cookie sheet; 11-13 min. on a non-stick cookie sheet.

After baking let sit on cookie sheet 1 minute; then remove to wire cooling racks and allow to cool completely.

When cookies are all baked and cooled, microwave the remaining cup white chocolate chips in a glass bowl for 25 seconds or until melted. Drizzle on cookies and then sprinkle with chopped dried cranberries while chocolate is still wet.