Cranberry-Apricot Oat Squares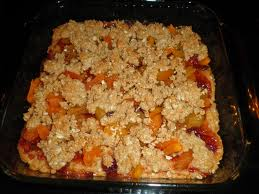 Ingredients
Ingredients for Cranberry-Apricot Oat Squares
5 T butter

1 jar Marshmallow Fluff (7.5 oz)

6 cups toasted oat cereal

3/4 cup dried cranberries

1/3 cup dried apricots, chopped

1/2 cup walnuts, chopped
Instructions
Directions
Take standard size baking sheet with sides and line with a piece of waxed paper. Spray waxed paper with nonstick spray and set aside.

Melt butter in saucepan over medium heat and add marshmallow fluff, stir until melted. Remove from stovetop and add cereal, dried cranberries, apricots and walnuts. Blend well.

Immediately pour mixture into prepared lined baking sheet. Press into single layer with spatula or knife (sprayed with nonstick spray to prevent sticking). May slip around a bit, use your hands to keep it steady. Cool completely and cut into squares.