Cranberry Arugula Pasta Salad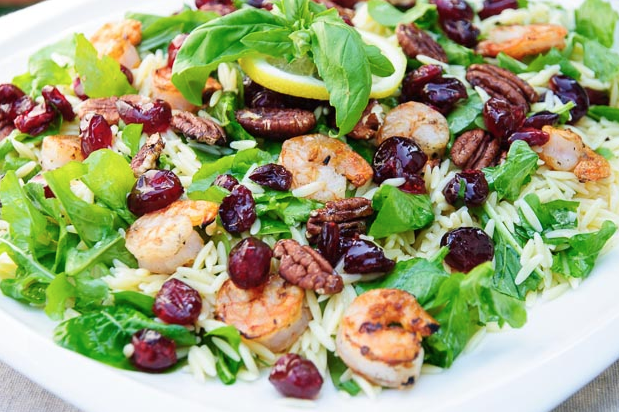 Ingredients
2 cups whole frozen cranberries (or fresh when in season Oct.-Jan)

1 ½ cups sugar

Pasta Salad

1 lb orzo pasta

3 tbsp olive oil, plus ¼ cup

3 cups arugula, lightly torn

12 fresh basil leaves, julienned

⅔ cup toasted pecans or walnuts

3 tbsp fresh lemon juice

1½ tsp salt

1 tsp ground pepper

1 lb grilled shrimp
Instructions
Directions
Rinse and dry cranberries.

Add Cranberries to a well buttered baking dish. Top with sugar and cover tightly with foil.

Bake at 350* for 1 hour, stirring half way through.

Let cool, transfer to waxed paper, let dry several hours.

Tip: sugared cranberries can be made the day before

Cranberry Arugula Pasta Salad:

Bring a large pot of salted water to boil and add in pasta, cooking according to directions.

Drain pasta and transfer to large bowl. Add 3 tablespoons olive oil, stir to coat.

Let cool and stir occasionally so pasta doesn't stick together.

Add cranberries and remaining ingredients, tossing gently to combine.