Cranberry Banana Nut Scones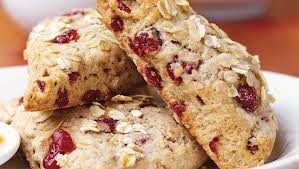 Ingredients
2 1/2 cups all-purpose flour

1/2cup light brown sugar

2 teaspoons baking powder

1 1/2 teaspoons nutmeg

1 teaspoon salt

1/2 cup butter

2 cups fresh or frozen cranberries

3 ripe bananas, mashed

1/2 cup chopped walnuts

1 egg
Instructions
Preheat oven to 350 degrees.

Combine dry ingredients in a medium mixing bowl. Work butter into dry ingredients using a pastry blender or fork until butter is the size of small peas.

Combine cranberries, mashed banana, walnuts and egg in a medium mixing bowl. Add to dry ingredients, mixing thoroughly.

Spoon batter into a 10-inch circle on an un-greased cookie sheet. Cut into 8 wedges. Bake for 25 minutes. Serve warm.