Cranberry Barbecue Baby Back Ribs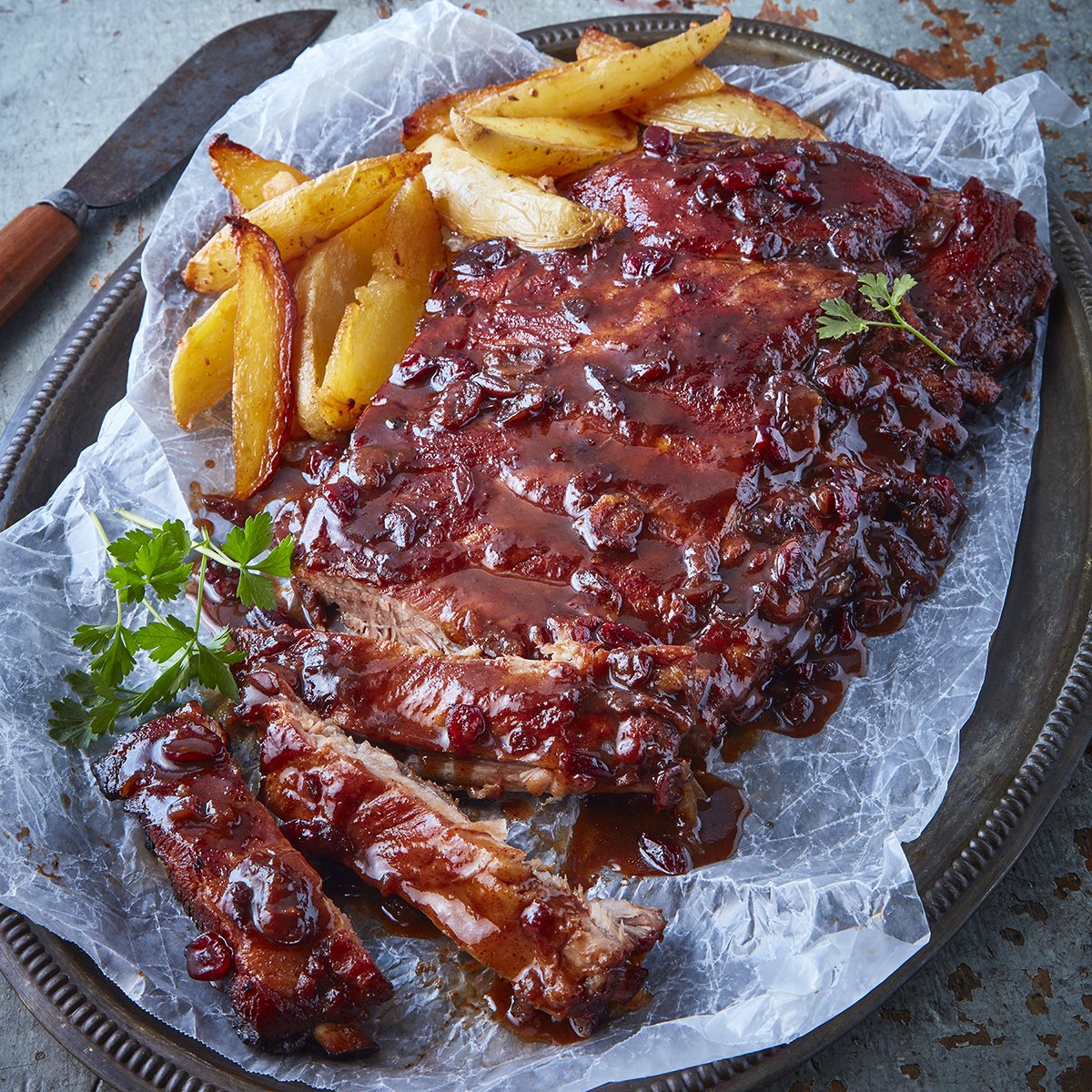 Ingredients
2 racks baby back ribs, cut in half

1 cup of Cranberry BBQ Sauce (see below)

Ingredients:

½ cup fresh or frozen cranberries

6 oz. tomato paste

½ cup orange juice

½ cup apple cider vinegar

¼ cup brown sugar

1 tsp. paprika

½ tsp. cayenne pepper
Instructions
Directions
For Cranberry BBQ Sauce:

Add all ingredients into a non-stick saucepan.

Heat on medium until mixture starts to simmer and then mix to combine ingredients.

Cover and continue heating until mixture comes to a boil, turn down to a simmer and stir mixture. Continue simmering, stirring intermittently until sauce thickens, approximately 10 minutes.

Remove from heat and allow to cool. When mixture is cool, blend with an immersion blender until smooth.

Pour into covered container and refrigerate until ready to use.

For ribs: Pre-cook ribs in large stock pot for 50 minutes on medium.

Remove from pot and place on large serving platter. Slather with Cranberry Barbecue Sauce. Sauce will soak in, so be sure to set aside extra for basting.

Preheat grill on low-medium. Place ribs bone side down on grill until grill marks appear or heated through. Repeat for other side. Baste ribs with sauce as you go.

Remove ribs from grill to serving platter, cover with aluminum foil and allow to rest a few minutes. Cut ribs and serve with side of Cranberry Barbecue Sauce.