Cranberry Barbecue Chicken Sandwich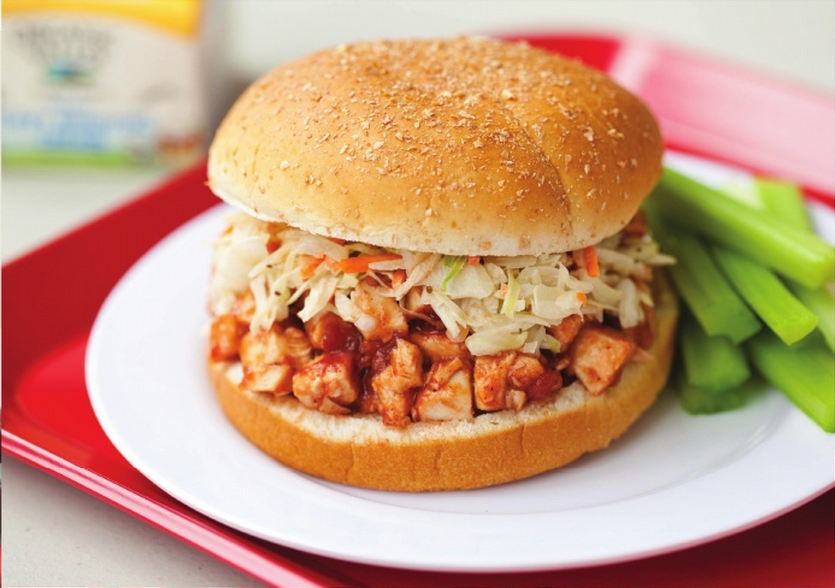 Ingredients
Ingredients for Cranberry Barbecue Chicken Sandwich
Cranberry BBQ Sauce* (makes 1 cup)

1 Tbsp. vegetable oil

1 cup minced yellow onions

1 Tbsp. minced garlic

1 tsp. dry mustard

1 tsp. chili powder

1 ½ Tbsp. tomato paste

1 ½ cups cranberry sauce

¼ cup cider vinegar

1 Tbsp. dark molasses

¼-½ cup water, if needed

Sandwich

10 oz. cooked white chicken meat, diced or shredded

1 cup Cranberry BBQ Sauce*

6 whole-grain buns, split

1 ½ cups prepared creamy coleslaw
Instructions
Directions
For Cranberry BBQ Sauce*: In a sauce pan, heat oil over medium-high heat; add onions and sauté 2 minutes. Mix in garlic, mustard and chili powder and continue cooking 1 minute. Stir in tomato paste and cook 1 more minute. Add cranberry sauce, vinegar and molasses and bring to a simmer, whisking often until mixture becomes smooth. Lower heat and simmer 15-20 minutes or until mixture reduces and thickens. Add water to mixture if it gets too thick. Remove from heat and cool to room temperature. Place in a covered container and refrigerate until ready to use. Reheat before using.

For Sandwich Filling: Heat prepared Cranberry BBQ Sauce*. Add chicken and bring to a simmer. Keep warm.

To Assemble Sandwich: For each sandwich, scoop ½ cup BBQ chicken onto a bun and top with ¼ cup coleslaw. Replace bun top on sandwich and serve accompanied by cut raw vegetables and/or fresh apple wedges.