Cranberry Bayou Crab Cakes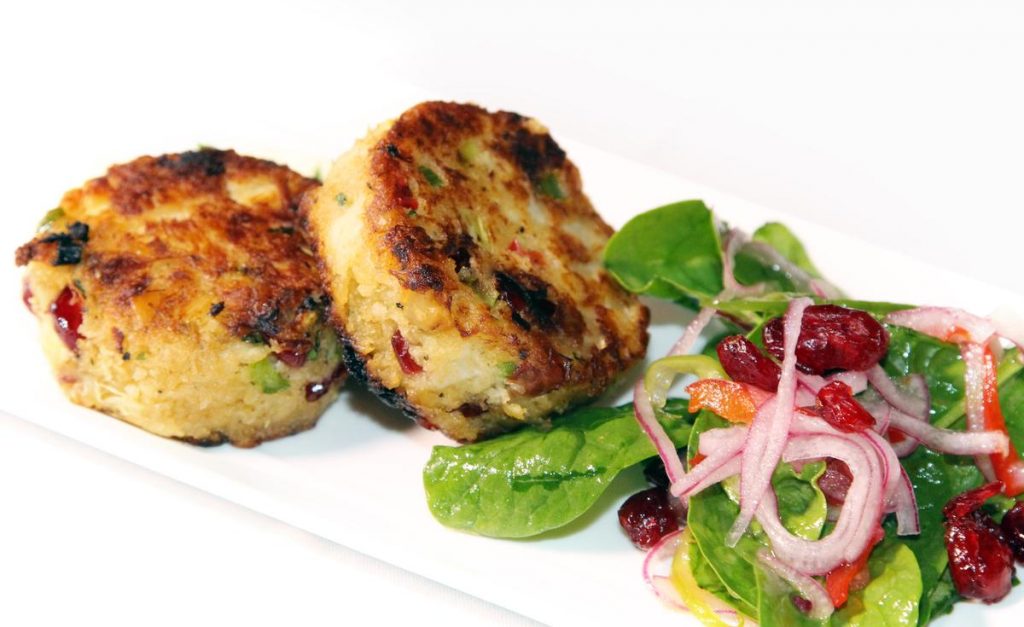 Ingredients
1/4 cup green bell pepper, seeded and diced

1/4 cup celery, small dice

1/4 cup red bell pepper, seeded and diced

1/4 cup yellow onion, small dice

1 tsp fresh garlic, chopped fine

4 Tbsp butter

1 lb. crabmeat, cooked, drained

1 1/2 cup dried cranberries

2 cups saltine crackers, crushed

4 tsp Dijon mustard

1 Tbsp lemon juice, fresh

2 tsp Old Bay seasoning

2 1/2 cup mayonnaise

4 sprigs fresh parsley, chopped

2 cups bread crumbs

1/2 Tbsp Worcestershire sauce

1/4 cup canola oil

1 lemon, sliced in wedges

Salt and pepper to taste
Instructions
In a small saute pan, melt butter and then saute garlic, onions, celery and peppers until tender, approximately 3 minutes, then cool.

Mix sauteed vegetables with crabmeat, Dijon mustard, bread crumbs, lemon juice, mayonnaise, Worcestershire sauce, dried cranberries, saltine crackers, Old Bay seasoning, salt and pepper to taste.

Form into 12 3-oz. cakes

Heat the oil in a large heavy skillet. Fry the cakes until evenly brown on both sides. Drain on paper towels. Serve with lemon wedge.