Cranberry Brittle Grilled Pineapple Slices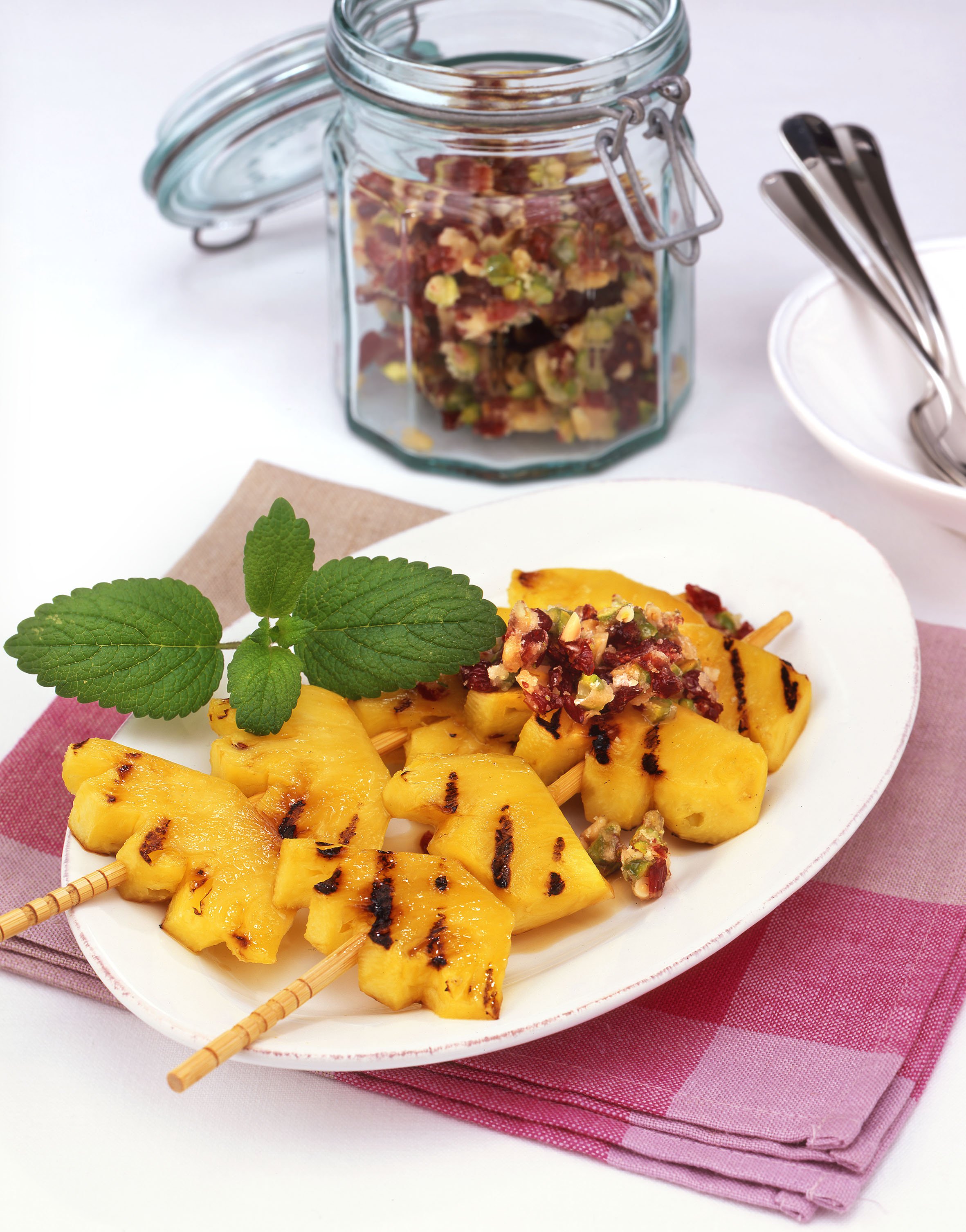 Ingredients
4 Tbsp sugar

1/2 tsp oil

2 Tbsp of each- pine nuts and pistachios

5 Tbsp dried cranberries

3/4 cup cranberry juice

2 Tbsp white rum (omit for children)

1 cinnamon stick

2 tsp. cornstarch

4 stalks lemon balm

1 pineapple

In addition:

1 coated grill pan and 8 wooden skewers
Instructions
Lightly oil a large plate. Heat sugar with 2 Tbsp water in a small pot. Coarsely chop pine nuts, pistachios and cranberries. As soon as the sugar caramelizes, use wooden spoon to stir the nuts and cranberries into the caramel. Spread the caramel onto the oiled plate and let it cool down.

Add cranberry juice, rum, and cinnamon stick in a pot and bring to a boil. Stir the cornstarch with 1 Tbsp cold water and whisk briskly into nectar. Cook for 5 minutes over low heat. Coarsely chop the cooled brittle.

Wash the lemon balm and shake it dry. Pluck off the leaves. Use a knife to peel off the pineapple's skin. Cut the pineapple flesh into six columns and remove the stalk. Cut the pineapple into finger-size pieces and thread them onto 8 wooden skewers. Lightly oil the grill pan and grill the pineapple skewers over high heat for 3 minutes on each side. Arrange each 2 skewers with some cranberry sauce and cranberry nut brittle. Garnish with lemon balm.

Tip: Serve the hot pineapple skewers with ice cream to make it a refreshing dessert. It goes well with nougat, coconut, walnut or chocolate ice cream.