Cranberry Brown Rice Pudding with Coconut Milk & Cinnamon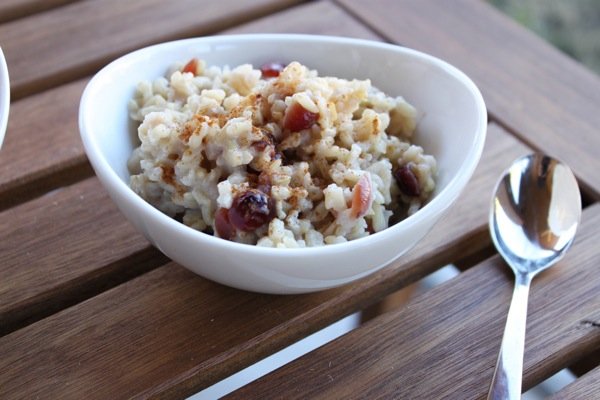 Ingredients
2 cups precooked short grain brown rice

1 3/4 cups coconut milk (1 14 oz can)

1/4 cup almond or dairy milk

3 T agave syrup (or other sweetener that you prefer)

1 tsp. corn starch

1/2 cup sweetened dried cranberries (or other chopped,dried fruit)

1 1/2 tsp. vanilla extract

1 tsp. cinnamon

orange zest and or shredded coconut for garnish
Instructions
Directions
In stovetop pan, place the coconut milk, almond milk and agave syrup. Heat up and whisk in the corn starch. Add rice, cranberries, and cinnamon into the milk mixture and bring to low simmer.

Let the mixture simmer and for the next 5-6 minutes stir constantly. Remove pan from heat and add in vanilla.

Let set for an hour and a half in the refrigerator. Sprinkle with orange zest and or shredded coconut before serving.

*Note-this pudding can be served warm, cold or room temperature if desired.
Source
Recipe courtesy of: Gillian Knox