Cranberry Brown Rice with Veggies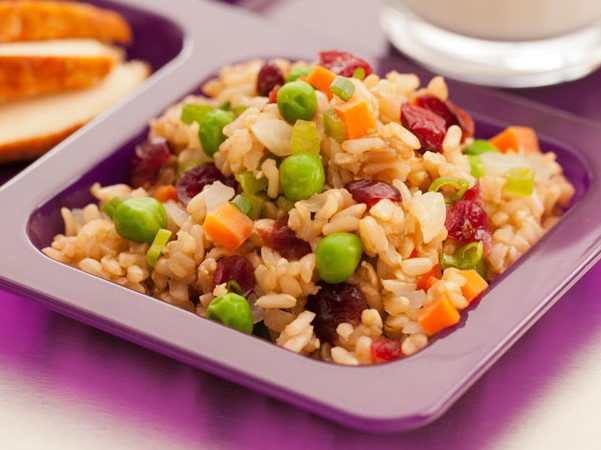 Ingredients
1 T vegetable oil

½ cup minced yellow onion

½ cup diced carrots

⅓ cup minced green bell pepper

¾ cup (6 oz.) rinsed brown rice, drained

⅓ cup dried sweetened cranberries

2 cups low-fat, reduced-sodium chicken broth, heated

3 T reduced sodium soy sauce

⅓ cup frozen peas, thawed

¼ cup minced scallions
Instructions
Directions
Heat oil in a heavy, wide pot over medium-high heat; add onions, carrots and peppers and sauté until tender, about 2-3 minutes.

Stir in rice and cranberries and heat through, about 1 minute, stirring often.

Pour in broth and soy sauce and bring to a boil. Reduce heat to very low, cover the pot tightly and cook for 45-60 minutes or until rice is tender and all liquid is absorbed.

Remove pot from heat and let rest at least 15 minutes before serving.

Just before serving, gently stir in peas and scallions and keep warm.

Note: Serve with grilled vegetables, grilled chicken, or roasted meats, if desired.