Cranberry Brussels Sprout Spring Rolls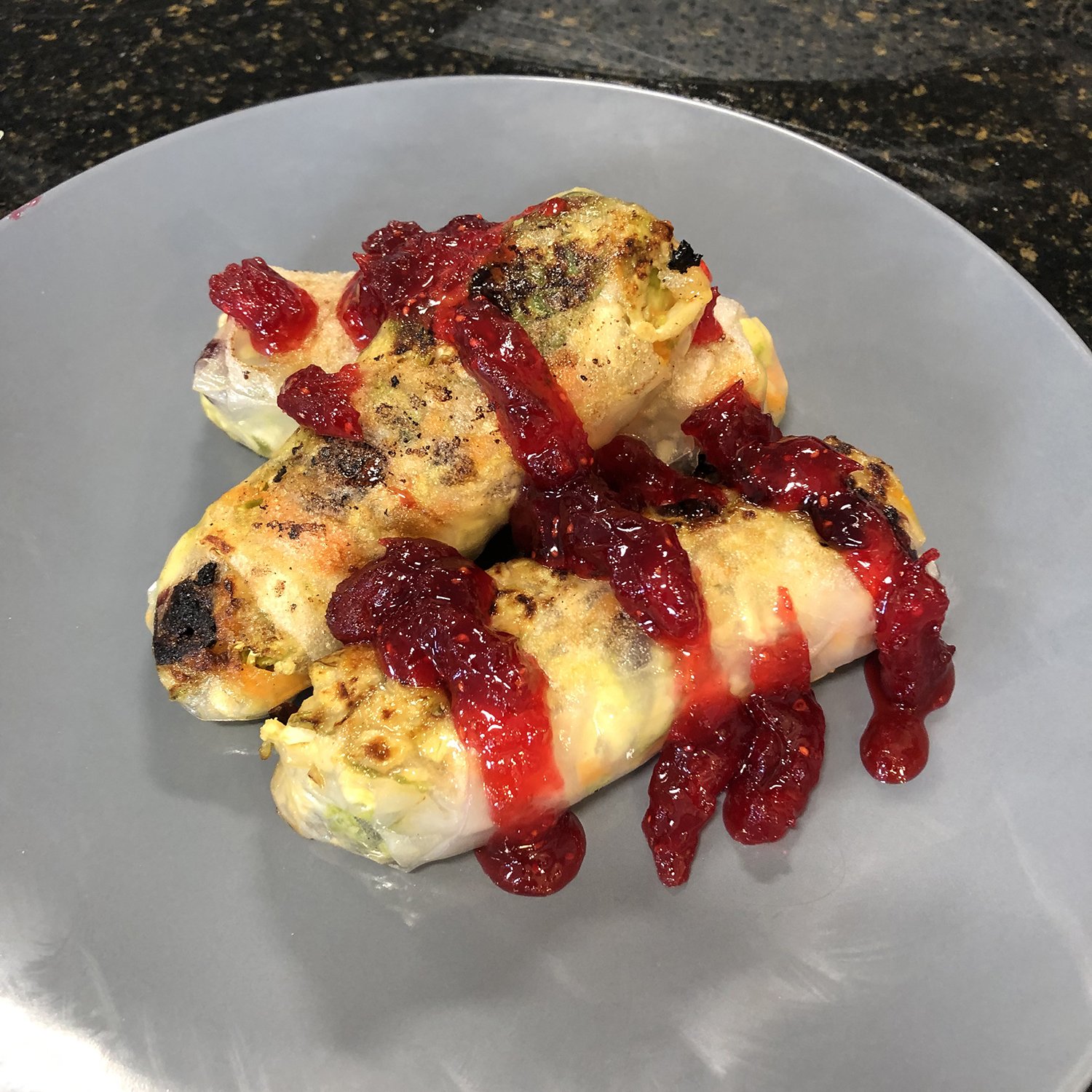 Ingredients
2 cups Brussels sprouts (finely chopped)

2 large carrots

1/2 cup slivered almonds

3/4 cup dried cranberries

1/4 cup Dijon mustard

1/4 cup water

1/8 cup granulated sugar

4 tablespoons Honey

2 teaspoons apple cider vinegar

1/8 teaspoon Salt

10 spring roll wrappers

1/2 cup Vegetable oil

1 cup frozen cranberries

1/2 cup granulated sugar

1/4 cup lemon juice

1 teaspoon cornstarch

1/4 teaspoon Lemon juice
Instructions
Preheat oven to 375°F

Shred the two carrots and then chop them. Combine finely chopped brussels sprouts, carrots, slivered almonds and dried cranberries in a large bowl.

In a separate bowl, combine Dijon mustard, water, sugar, honey, and apple cider vinegar. Season with salt and pepper.

Pour honey Dijon mixture over the Brussels sprout slaw in the large bowl. Stir to completely cover slaw in the mixture.

One by one, dip the spring roll wrappers into room temperature water for about 10 seconds or as directed on the package. Remove when the wrapper is flimsy, lay it on a flat surface and scoop approximately 3 tablespoons on to the center of the wrapper. Roll the wrapper up around the slaw. Repeat with the remaining wrappers.

Heat the oil in a pan until it is 375*F. Gently drop the spring rolls into the oil and cook for approximately 3 minutes, flip them over, and cook for 3 more minutes. Remove the spring rolls from oil and place on a paper towel to absorb excess oil and cool. Repeat for all spring rolls.

Add frozen cranberries and sugar together in a medium saucepan over medium heat. Stir until sugar is dissolved. Add lemon juice and bring to a simmer.

Make a slurry with cornstarch and remaining lemon juice. Add this to the saucepan. Bring mixture up to a boil. Cook until thickened and sauce clears.

Top spring rolls with the cranberry compote to serve.