Cranberry Bulgur Salad with Carrots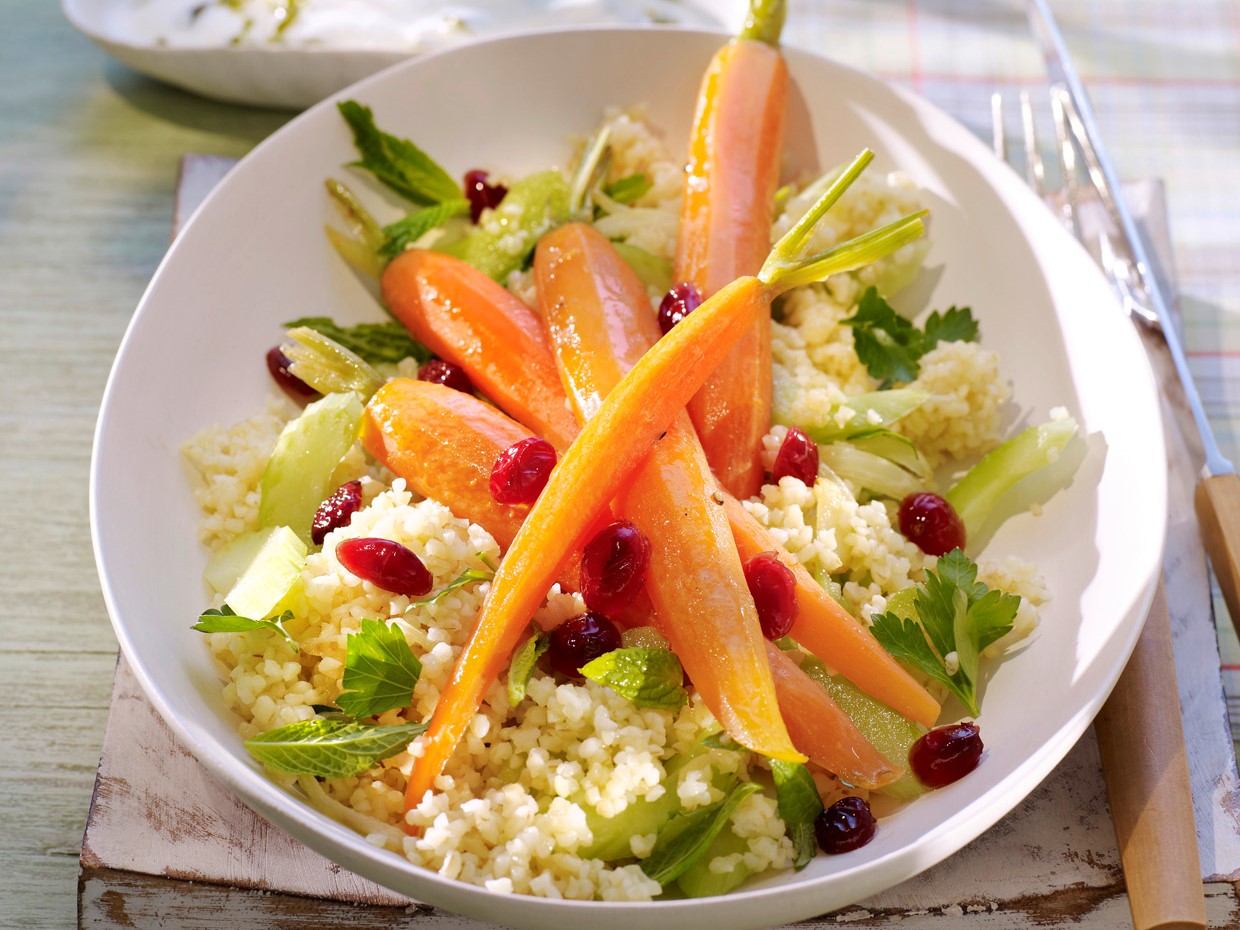 Ingredients
1 1/8 cups bulgur

1 onion

5-6 T of olive oil

4 sprigs of mint

4 sprigs of smooth parsley

2 cups celery

3 T of lemon juice

Sugar

1 bunch of carrots (approx.1 1/3 cup)

1/3 cup dried cranberries

1 stick of cinnamon

2/3 cup freshly pressed orange juice

1/3 cups shell on pistachios

3/4 cups Greek yogurt

Salt & Pepper to taste
Instructions
Directions
Cook the bulgur in accordance with the instruction on the packet. Cut the onion into halves, then into strips and stew this in 1 tablespoon of hot oil for 3 minutes. Mix the onion into the bulgur and leave everything to cool.

Chop the mint and parsley leaves. Clean the celery and cut it diagonally into fine slices. Mix the bulgur with the lemon juice and 3-4 tablespoons of oil. Season with salt, pepper and 1 pinch of sugar. Mix in the herbs and celery.

Peel the carrots, leave 1 cm of delicate green on them and cut them lengthways into halves. Heat 1 tablespoon of oil in a pot. Stew the carrots in this at medium heat for 5 minutes. Season with salt, pepper and 1 teaspoon of sugar. Add the cranberries, stick of cinnamon and orange juice and then lightly cook the carrots with the lid on the pot for approx. 5 minutes until they are "al dente".

Shell the pistachios and chop them roughly. Stir the yoghurt till it is smooth and sprinkle with cranberry, carrots and pistachio yoghurt.
Source
To 20 Cranberry Recipes to Watch 2014