Cranberry Butter Lettuce Salad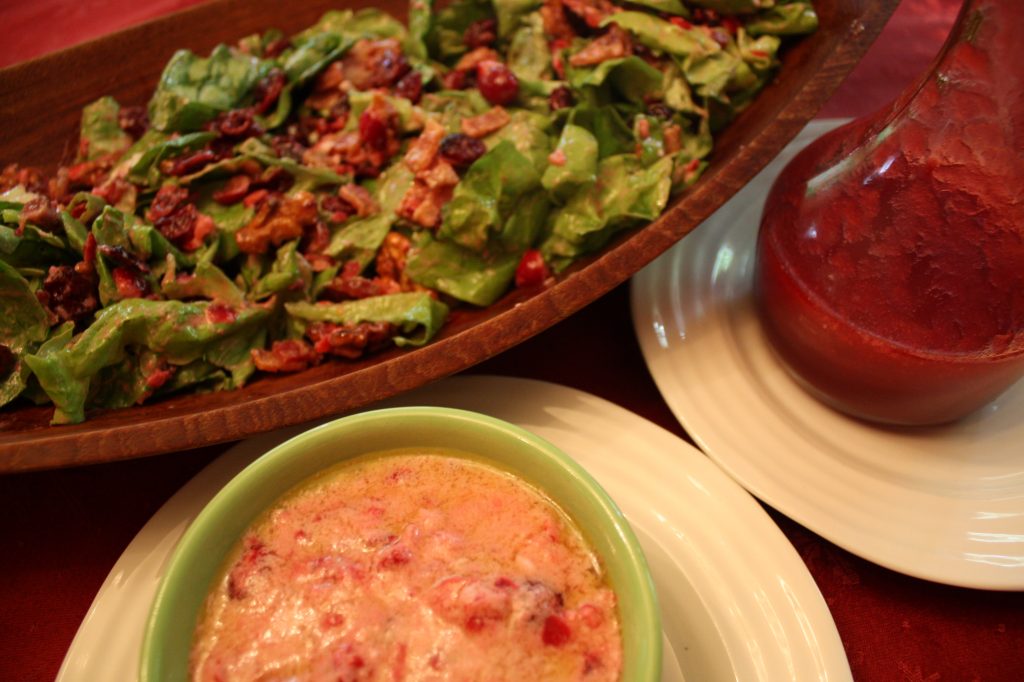 Ingredients
Dressing:

1 cup cranberries, fresh or frozen

1 T sugar

3 T mayonnaise

1 T cranberry vinegar* or white wine vinegar

1/2 cup extra virgin olive oil

1 oz soft goat cheese, crumbled

Salt and pepper

Salad:

4 slices of bacon, diced

1 large butter lettuce

1/2 cup dried cranberries

1/2 cup candied walnuts, (recipe follows)

Candied walnuts

1/2 cup walnut halves

1 T maple syrup

1/2 Tbsp sugar

1/2 tsp salt

1/4 tsp. pepper
Instructions
Directions
Dressing

Place cranberries and sugar in a processor and pulse a few times to chop the berries. In a medium bowl, whisk the mayonnaise and vinegar together. Gradually whisk in the oil, then the cheese and cranberries. Season to taste with salt and pepper. (Note the dressing will be quite thick, thin with more white wine vinegar if desired.)

Salad

Saute bacon in heavy skillet over med-high heat until crisp. Transfer to a paper towel-lined plate to cool.

Tear the lettuce into large pieces into the salad bowl. Add the bacon, dried cranberries and the walnuts. Toss the salad with enough dressing to coat. Serve with remaining dressing in a jug.

Candied Walnuts

Preheat oven to 325 degrees. Oil baking sheet. Combine walnuts and remaining ingredients in a bowl and toss to coat. Spread the mixture on the sheet, separating the nuts. Bake until the nuts are golden, stirring occasionally, about 12 minutes. Watch carefully to ensure the don't burn. Transfer the nuts to a sheet of parchment paper to cool, separating any that stick together.
Source
British Columbia Cranberry Marketing Commission