Cranberry Carrot Soup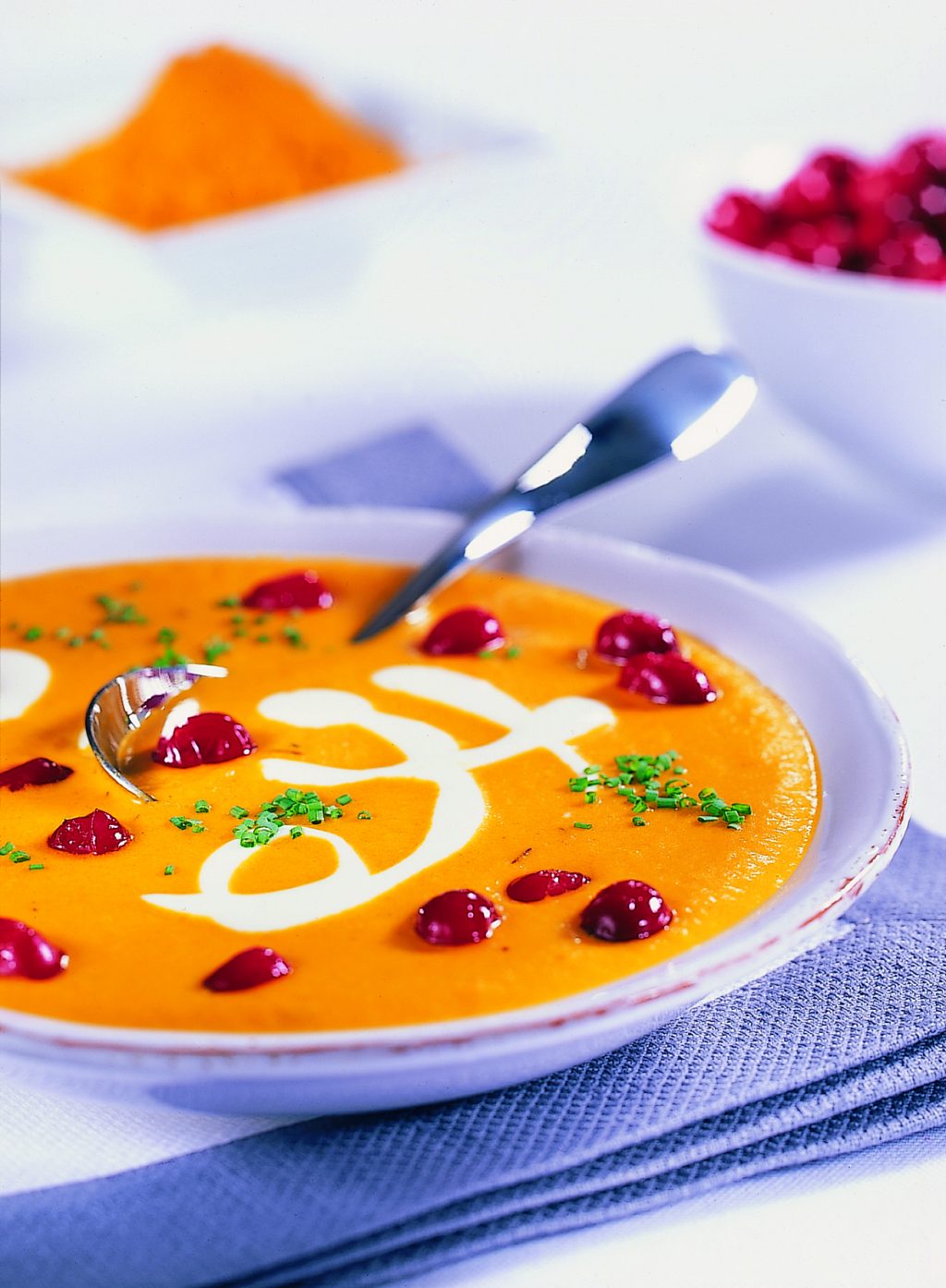 Ingredients
1/3 cup dried cranberries

1 3/4 carrots

3/4 potatoes

3 Tbsp butter

1 tsp curry powder

1 tsp turmeric

3 cups vegetable broth

1 cup sour cream

1 small parsley root

1 large onion

1 pinch of sugar

1 small chopped chive

Salt and pepper
Instructions
Soak 1 tablespoon of cranberries in 2 tablespoons of boiling water for about 20 minutes. Put the cranberries in a sieve and collect the draining water.

Wash and peel carrots, potatoes, and parsley root. Also peel the onion. Dice all of the vegetables. Roughly chop up the remaining dried cranberries.

In a large pot, braise the onions in 2 tablespoons of butter with curry and curcuma. Add the carrots, potatoes, parsley root and chopped cranberries. Let it simmer briefly with the onions and pour the broth. Cook the vegetables in broth until soft; then finely puree it.

Add the soaked cranberries in the remaining butter and quickly saute it. Add the collected liquid from the boiled cranberries, and simmer until softened. Add berries to the soup and stir in sour cream. Reheat the soup and season with pepper, salt, and sugar. Garnish the soup with chopped chive before serving. If desired, serve with pita bread.

Tip with fresh cranberries: From October to January, you can use fresh cranberries instead of dried cranberries. to replace the 1/3 cup of dried cranberries, use 1/4 fresh cranberries and 1/4 dried cranberries. Use the fresh cranberries in the remaining butter, saute, and add it to the soup with the sour cream. Then continue reading the recipe.