Cranberry Cheesecake Galette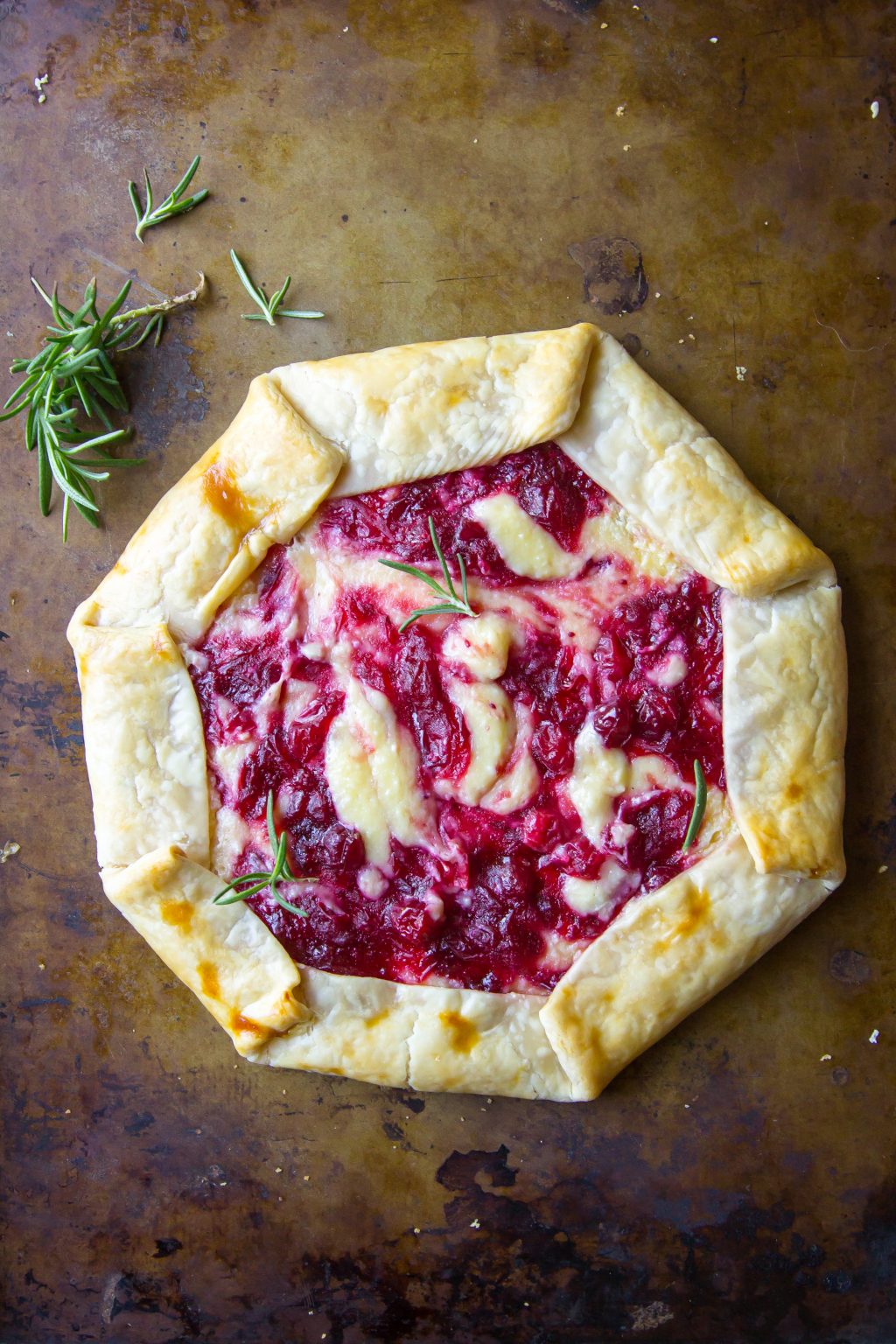 Ingredients
For the cranberry sauce:

1/2 cup sugar

1/3 cup water

Pinch salt

8 ounces fresh cranberries

1 small sprig fresh rosemary

For the galette:

2 (8 ounce) packages cream cheese, softened

2/3 cup sugar

2 eggs, divided

1 teaspoon vanilla

1 (14 ounce) box refrigerated pie crusts (2 crusts)

1 tablespoon heavy cream or water
Instructions
In small saucepan, combine sugar, water and salt. Bring to boil. Stir in cranberries and rosemary. Cook until cranberries have popped and broken down and the sauce has thickened, about 10 minutes. Cool at least 30 minutes.

Meanwhile, preheat oven to 400 degrees. Line baking sheets with parchment paper. Unroll both pie crusts into a flat circle and lay on prepared sheets. Separate egg whites from egg yolks and set whites aside. In a standing mixer with the paddle attachment, or in a bowl with a hand mixer, whip cream cheese, sugar, yolks, and vanilla until smooth.

Divide cream cheese filling between the center of both pie crusts, leaving a 1-inch border around the outside. Drop spoonfuls of cranberry sauce on each, using about 1/2 cup cranberry sauce per galette. Gently Drag knife through cranberry sauce to create a swirl pattern. Use a light touch and be careful not to over-swirl the filling.

Fold 2-inch segments of pie crust up at a time to create crust. You should have about 8 folds per galette. In a small bowl, whisk together egg whites and cream or water. Brush on folded galette crust. Bake until crust is golden brown and filling is heated through, about 15 to 20 minutes. Remove from oven and cut each tart into 6 wedges.
Source
The Cranberry Marketing Committee and Meggan Hill of Culinary Hill