Cranberry & Chocolate Energy Balls w/ Coconut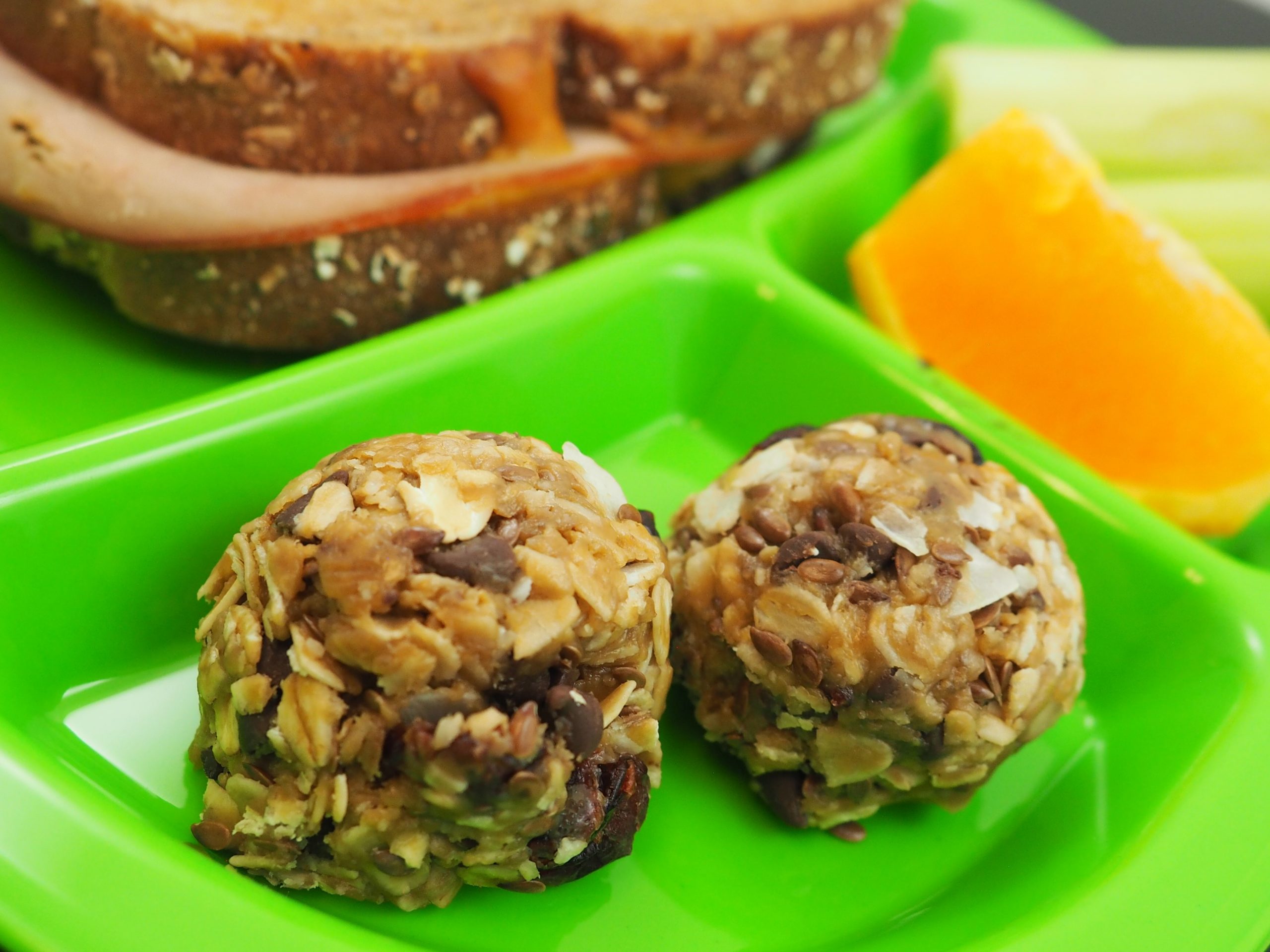 Ingredients
2 cups sunflower butter

2 cups Honey

6.5 cups rolled oats

3/4 cup flax seed

3 3/4 cups Cranberries, dried

1 cups mini chocolate chips

2 cups shredded coconut, unsweetened
Instructions
Combine nut butter and honey in a large mixing bowl and stir until smooth.

Combine all other ingredients in another bowl and mix well.

Slowly add the dry mixture to the we mixture, stirring often until incorporated.

Using a #20 disher, portion balls, then roll them with your hands to make them round.

Place on a sheet tray with parchment paper and refrigerate.

To Serve: 2 on a plate.
Serving
0.25 oz. alt grain, 1/8 c. fruit.
Nutrients per serving
Calories 270 kcal, Total Fat 11.11 g, Saturated Fat 3.39 g, Trans Fat 0 g, Cholesterol 0 mg, Sodium 39.71 mg, Carbohydrates 40.46 g, Dietary Fiber 4.32 g, Protein 5.84 g, Vitamin C 0.45 mg, Calcium 23.32 mg, Iron 1.76 mg, Vitamin A 1.10 RE (10.96 IU), 16.95 % Calories from Saturated Fat**seed butter excluded in restriction
Sanitation instructions
Wash hands and exposed parts of arms before handling food, after handling raw foods and after any interruption that may contaminate hands. Wash, rinse and sanitize all equipment and utensils before and after use. Return all ingredients to refrigerator if preparation is interrupted. Measure all internal product temperatures with a cleaned and sanitized thermocouple or thermometer every 2 hours. Thaw frozen product properly using an FDA recommended method.