Cranberry Cinnamon Rolls with Walnuts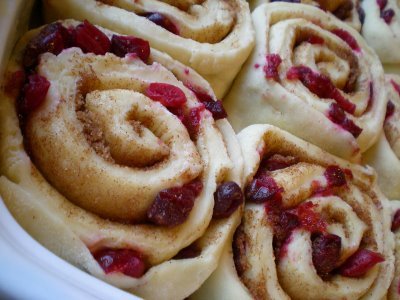 Ingredients
Ingredients for Cranberry Cinnamon Rolls with Walnuts
Non-stick Cooking Spray

2/3 cup chopped walnuts

2/3 cup chopped sweetened dried cranberries

2 T low sugar orange marmalade

2 T orange juice

1 package refrigerated cinnamon rolls

*Icing if desired

1 T milk

1 cup powdered sugar

1/4 tsp. Vanilla Extract
Instructions
Directions
Heat oven to 375F. Coat an 8x8 baking dish or a 9 cake pan with non-stick cooking spray. Set aside.

In mixing bowl, combine walnuts, cranberries, orange marmalade and orange juice until well mixed. Pour mixture into prepared baking dish or cake pan. Spread out evenly. Take each cinnamon roll and tear into 4-6 pieces. Scatter pieces cinnamon side down over the top of mixture in baking dish/pan.

Put into oven and bake for 20-22 minutes or until golden brown. Take out of oven and invert onto dessert plate immediately. Keep pan on top of rolls for a few minutes to let the topping bond with the rolls. Remove pan and let cool for 5-10 minutes.

You can drizzle the top with icing if desired. Mix milk, powdered sugar and vanilla together, using a bit more milk if needed to thin. Drizzle over the top.