Cranberry Coffee Braid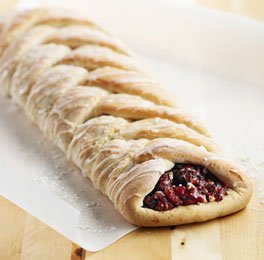 Ingredients
Ingredients for Cranberry Coffee Braid
1 loaf frozen bread dough, thawed

2 cups sweetened, dried cranberries, finely chopped

2 tablespoons orange juice

1/2 cup chopped walnuts

1 tsp. cinnamon

1 cup powdered sugar

2 T fresh lemon juice
Instructions
Directions
Preheat oven to 375 degrees F.

Combine cranberries and orange juice in glass bowl. Microwave on high for 30 seconds. Set aside to cool.

Roll dough out into an 11 x 15-inch rectangle on a lightly floured surface. Place dough on a cookie sheet.

Combine cranberry-juice mixture, nuts and cinnamon in a small mixing bowl. Spread lengthwise down the center of dough in a 4-inch wide strip. Cut dough on either side of filling into 1-inch wide strips. Fold dough strips alternately across center of filling.

Cover with parchment paper and a clean kitchen towel and let rise in a warm place for 30 minutes.

Bake braid for 30 minutes or until golden brown. Remove from oven and place on cooling rack.

Combine powdered sugar and lemon juice in a small mixing bowl. Drizzle on braid.