Cranberry Cowgirl Burgers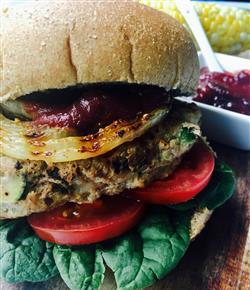 Ingredients
2 oz. pepper jack cheese, cut into 8 slices

1.25 lb. lean (93%) ground turkey

1 cup grated zucchini, squeezed dry

1 tsp seasoning salt

½ tsp fresh black pepper

½ Vidalia or other sweet onion, sliced into 4 rings

Salt & pepper

1 tsp canola oil

Cranberry Barbecue Sauce (recipe below)

4 whole wheat hamburger buns, toasted

Lettuce and Tomato

1 cup whole cranberries, fresh or frozen

1 cup 100% pineapple juice

6 oz. tomato paste

3-4 T maple syrup or honey

1 T apple cider vinegar

2 T Worcestershire sauce

½ tsp onion powder

½ tsp garlic powder

½ tsp dry mustard

⅛ tsp cayenne pepper

¼ tsp smoked paprika

½ tsp salt
Instructions
Combine ground turkey, zucchini, seasoning salt and pepper.

Mix well.

Form turkey mixture into 8 thin patties.

Place 2 slices of cheese and 1 tablespoon of barbecue sauce on 4 of the patties.

Top with remaining four patties, pinching to seal edges.

Brush onions with canola oil and sprinkle with salt and pepper on both sides.

Preheat grill (or grill pan) to medium-high. Coat with cooking spray.

Grill turkey burgers for 5 minutes on each side or until cooked through.

While burgers are cooking, grill onions for about 5 minutes or until tender.

To assemble burgers, place lettuce and tomato on bottom bun, followed by burger, grilled onions and a dollop of cranberry barbecue sauce and top of bun.

Homemade Cranberry Barbecue Sauce Directions

In a medium saucepan, combine cranberries and ½ cup pineapple juice over medium-high heat and bring to a boil.

Cook until cranberries pop, and mixture thickens.

Reduce heat to low.

Stir in remaining ½ cup of juice and the rest of ingredients.

Mix well and cook on low for 10 minutes, stirring constantly.

Set aside to cool.