Cranberry-Cucumber Salad and Salmon Cakes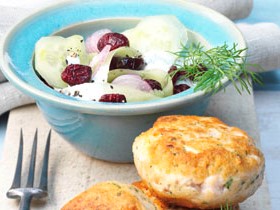 Ingredients
Ingredients:

3 shallots

2 small cucumbers

1 bunch dill

1 cup Greek yogurt

3 T milk

juice of 1 lemon

1 tsp. sugar

Salt and pepper to taste

Salmon Cakes:

2 lbs. skinless salmon

3-4 T breadcrumbs

1 egg

1 T butter

3 1/2 oz. dried cranberries
Instructions
Peel the shallots and cut into thin slices. Peel the cucumbers and use a vegetable peeler to cut the cucumber into thin slices. Wash dill, shake dry and remove leaves from the stems. Set some of the leaves aside for garnish. Chop the remaining dill finely. Mix milk with yogurt and half of the chopped shallots. Add half of the chopped dill and half of the lemon juice. Season with sugar, salt and pepper.

Wash salmon, pat dry and cut into small cubes. Put 2/3 of the salmon together with the remaining shallots, breadcrumbs, egg and remaining lemon juice into a food processor. Mix well and add the remaining salmon cubes and dill. Season with salt and pepper and form 12 cakes.

Heat butter in a pan and fry the cakes on each side for 4-5 minutes until golden brown. Mix cranberries with cucumbers and the dressing. Arrange salmon cakes together with the salad on a plate and garnish with the remaining dill.