Cranberry Eucalyptus Wreath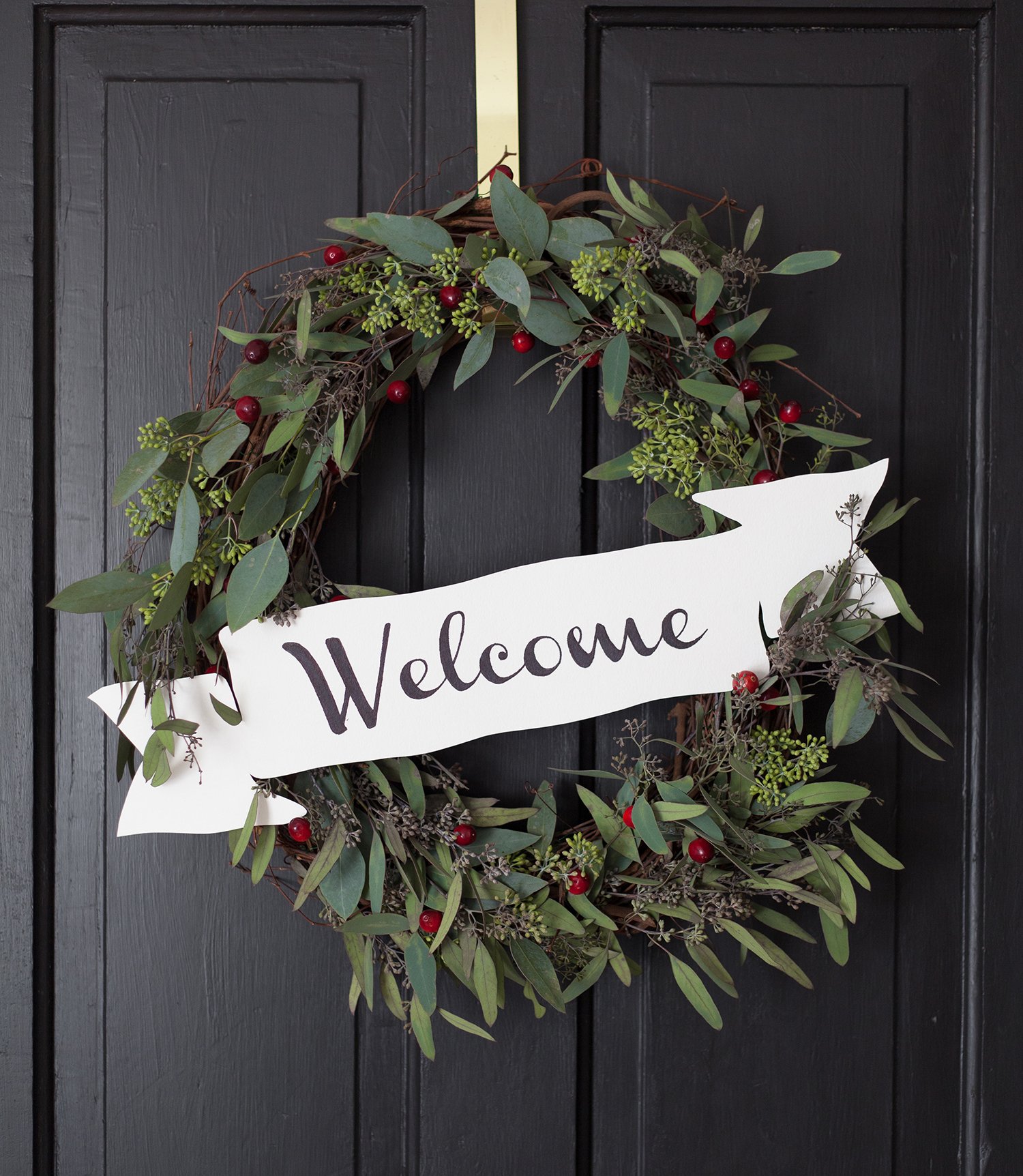 Ingredients
1 roll thin gauge green floral wire

needle nose pliers

16-inch grapevine wreath (oval or round)

blue painter's tape or brightly colored washi tape

1 ½ medium bundles eucalyptus

1 ½ cups fresh cranberries

kitchen shears

wreath door hanger

heavy duty neutral-colored tape or masking tape, or lighter-color gaffer tape (optional)

paper sign (printed or hand-written) (optional)
Instructions
Cut 20-30, 5-inch lengths of floral wire. More wire equates to more cranberry density within the wreath.

Use your hands or needle nose pliers to wrap one end of the wire securely to the grapevine wreath. Do this to with all the wires you cut, spaced throughout the wreath. Leave the tails of the wire pointing straight up on one end and tape ends with a flag of brightly colored tape. This is where the cranberries will be wired after adding the eucalyptus, so you won't miss the wires and they're securely fastened.

To add eucalyptus, add larger stems to the grapevine wreath flowing in the same direction. Cut down any stems necessary to create the desired look of fullness. Continue to insert eucalyptus stems in the same direction.

Once desired fullness is achieved, cut the ends of the wires with the flags and insert a cranberry. For extra security, and especially for cranberries pointed downwards, push cranberries all the way through the wire and use needle nose pliers to hook the end to look like a stem and keep it from slipping off. Do this process one by one.

Use wreath door hanger to hang wreath.

Optional: To add a sign, cut paper to desired shape and size. Use heavy duty, neutral-colored tape to adhere floral wire to each end of the sign, and wire to the wreath.