Cranberry Filled Vanilla Heart-Shaped Meringues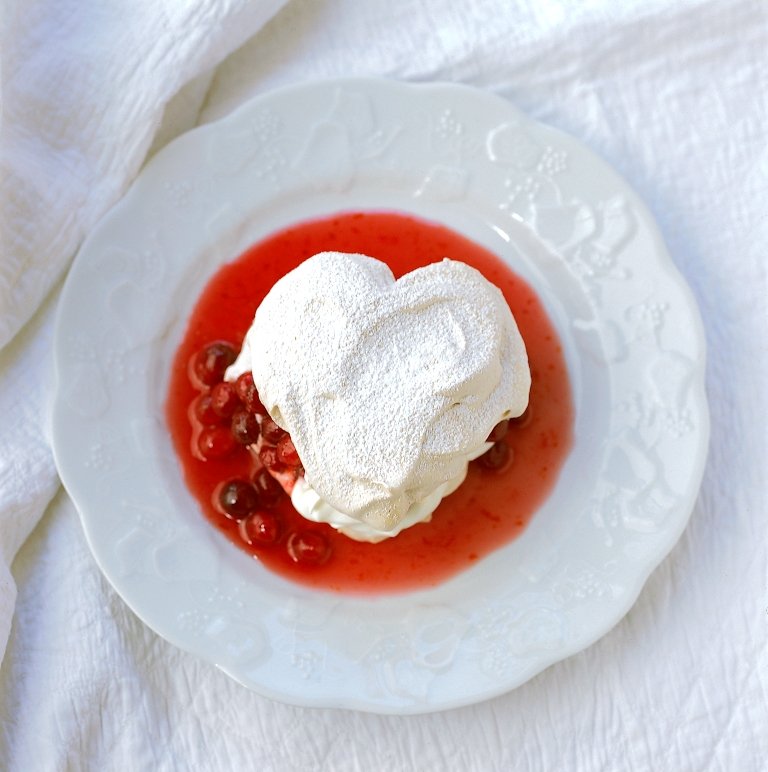 Ingredients
Ingredients for Cranberry Filled Vanilla Heart-Shaped Meringues
Vanilla Meringues:

4 egg whites

1 pinch salt

1 1/2 cup Caster sugar

1/2 tsp vanilla essence

Icing sugar for dusting

Cranberry Filling:

2 cups frozen cranberries

1 cup Caster sugar

1 orange, grated rind and juice

T Grand Marnier

1 1/4 cup heavy cream, whipped

1/2 tsp Vanilla essence
Instructions
Directions
Preheat oven to 350 degrees Fahrenheit. Line 2 heavy baking trays with baking paper and draw 6 small heart shapes on each tray (12 in total).

Whip egg whites with salt until stiff but not dry. Add caster sugar 1 tablespoon at a time beating until mixture is glossy before adding the next tablespoon of sugar. Continue beating until mixture is very thick and glossy.

Stir through vanilla essence.

Using a spoon or piping bag shape meringue mixture into heart shapes on prepared trays.

Place tray in preheated oven, reduce heat to 325 degrees Fahrenheit and bake for 1-1 1/4 hour or until firm and dry.

Cool. Store in an air-tight container until ready to use.

Filling:

Place cranberries, caster sugar, orange rind and juice in a small saucepan. Heat gently until sugar dissolves and berries just start to release some color.

Add Grand Marnier and cool.

To Assemble:

Whip cream with vanilla until firm.

Place a heart-shaped meringue onto each serving plate, top with whipped cream and spoon over a tablespoon of the berries.

Top each with a second meringue heart. Dust with icing sugar and drizzle a little of the juice around the edge of the plate.