Cranberry, Ginger and Fig Semifreddo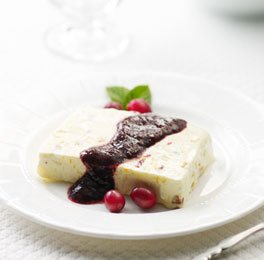 Ingredients
2 3/4 cup heaving whipping cream

8 large egg yolks

2/3 cup sugar

1/4cup minced candied ginger

1/3 cup coarsely chopped dried figs

1/3 cup coarsely chopped sweetened, dried cranberries

2 T grated orange zest

Garnish: Fresh blackberry or blueberry puree and mint leaves
Instructions
Directions
Using an electric mixer fitted with the whisk attachment, or by hand with a whisk, beat the cream until stiff and set aside.

With the paddle attachment or by hand, using another bowl, beat the eggs yolks until light. Gradually beat the sugar into the egg yolks and continue beating until light and fluffy.

Gently fold the whipped cream into the egg mixture. Finish by folding in the ginger, figs, cranberries, and orange zest.

Line a 2-quart terrine or small loaf pan with plastic wrap. Fill with mixture, cover with plastic wrap, and freeze for at least 6 hours or overnight.

Unmold the semifreddo, cut into slices, plate, and surround the slices with the berry puree and garnish with mint leaves.