Cranberry & Goat Cheese Stuffed Pears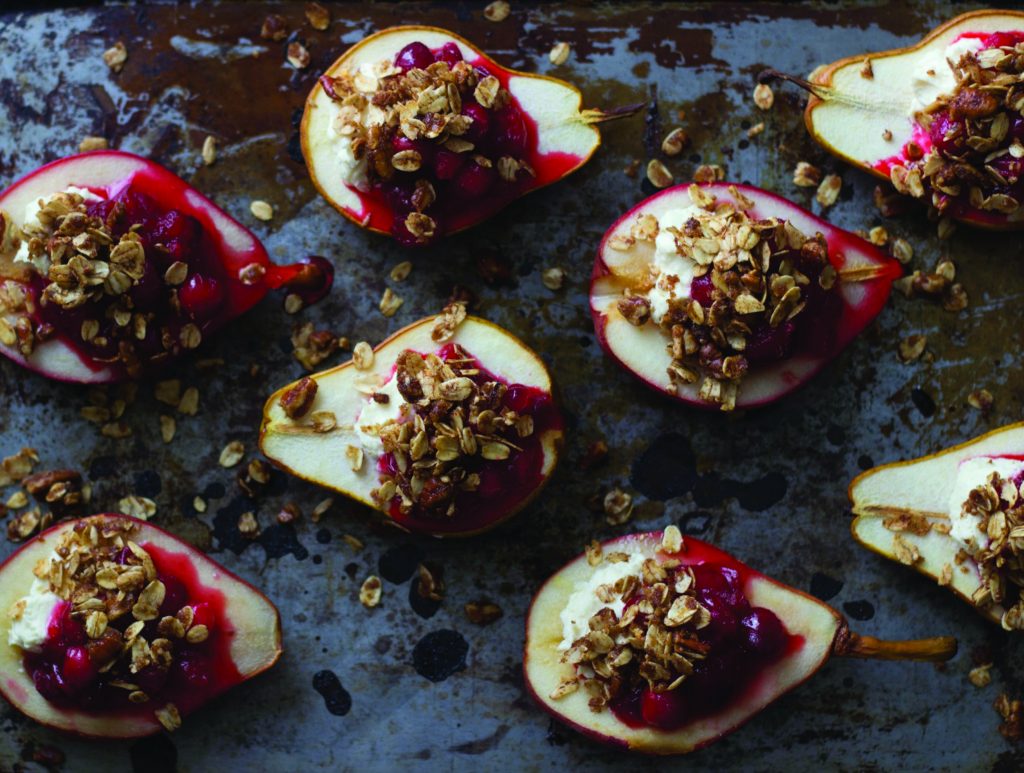 Ingredients
1 ½ cups fresh cranberries

7 Tbsp. honey, divided

4 medium red or green Bartlett pears

2 Tbsp. fresh lemon juice

4 oz. goat cheese

¼ cup old-fashioned rolled oats

2 Tbsp. chopped walnuts or pecans

Pinch ground cinnamon + more for topping

2 tsp. butter, melted

2 tsp. brown sugar
Instructions
Preheat oven to 425 degrees. In a small saucepan, heat cranberries, ¼ cup water and 5 tablespoons honey to medium-high heat. Bring to a simmer and allow to cook about 4-5 minutes, until cranberries just start to soften and mixture has slightly thickened. Remove from heat.

Trim a small slice off each side of the pears. Cut in half lengthwise. Hollow just the center of the pears with a melon baller or spoon, creating a cavity for filling. Rub each pear with lemon juice. Bake 17-20 minutes, until just tender (if pear is ripe, it will take less time to cook).

In a small bowl, beat goat cheese and remaining 2 tablespoons honey with a hand mixer until smooth and creamy. Place a spoonful of goat cheese mixture into each pear. Place a spoonful of cranberry mixture into each pear, next to the goat cheese mixture. In another small bowl, mix together oats, walnuts, cinnamon, melted butter and brown sugar. Place a spoonful of oat mixture on each pear. Serve with a sprinkle of cinnamon.
Source
The Cranberry Marketing Committee and Julie Andrews, RD of The Gourmet RD