Cranberry Gremolata Risotto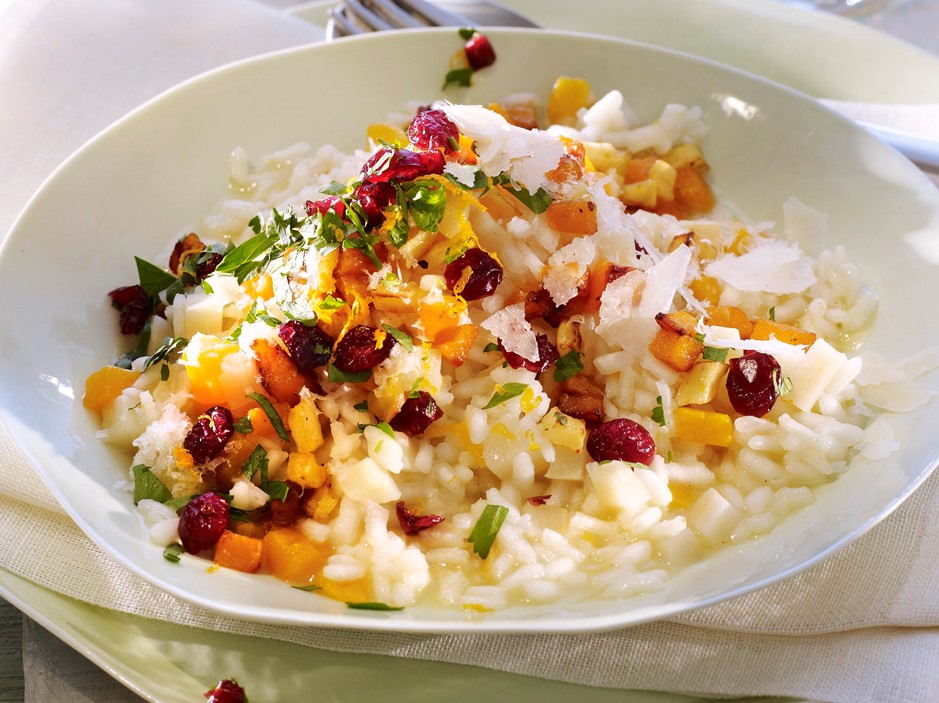 Ingredients
Ingredients (4 portions):

4 1/2 cups vegetable stock

2 small onions

1 clove of garlic

2/3 lb. butternut squash (or pumpkin)

2/3 lb. parsley roots

2 T olive oil

1 ½ tablespoons of butter

1 1/3 cups risotto rice

1/2 cupl vermouth (Noilly Prat, white wine as alternative

Salt & pepper

6 sprigs of smooth parsley

1/3 cup dried cranberries

2 teaspoons of finely grated organic orange peel

1 cup Parmesan cheese
Instructions
Directions
Heat vegetable stock and keep it warm. Finely dice onions and garlic. Clean and peel pumpkin and parsley roots, then cut them into 1 cm large cubes.

Heat 1 tablespoon of oil and 1 tablespoon of butter in a pot. Stew the onions and garlic in this until they become glassy. Add half of the vegetables and stew them at a medium heat for 3 minutes with the garlic and onions. Add rice and stew it with the rest of the mixture while stirring. Pour in the vermouth and boil till all the liquid has evaporated.

Pour in just enough vegetable stock to keep the rice covered. Cook with the lid off at a medium heat for 20 minutes while frequently stirring. While doing so repeatedly pour in some of the vegetable stock as soon as it has been almost absorbed by the rice.

In the meantime heat 1 tablespoon of oil and 1/2 tablespoon of butter in a pan. Fry the rest of the vegetables at a medium to high heat for 10 minutes. Season with salt and pepper. Chop the parsley leaves and cranberries and mix them with the orange peel. Grate the Parmesan.

Mix half of the Parmesan with the risotto with roasted vegetables, cranberry gremolata and the rest of the Parmesan sprinkled over the top.
Source
Top 20 Cranberry Recipes to Watch 2014