Cranberry Honey Cornmeal Quick Bread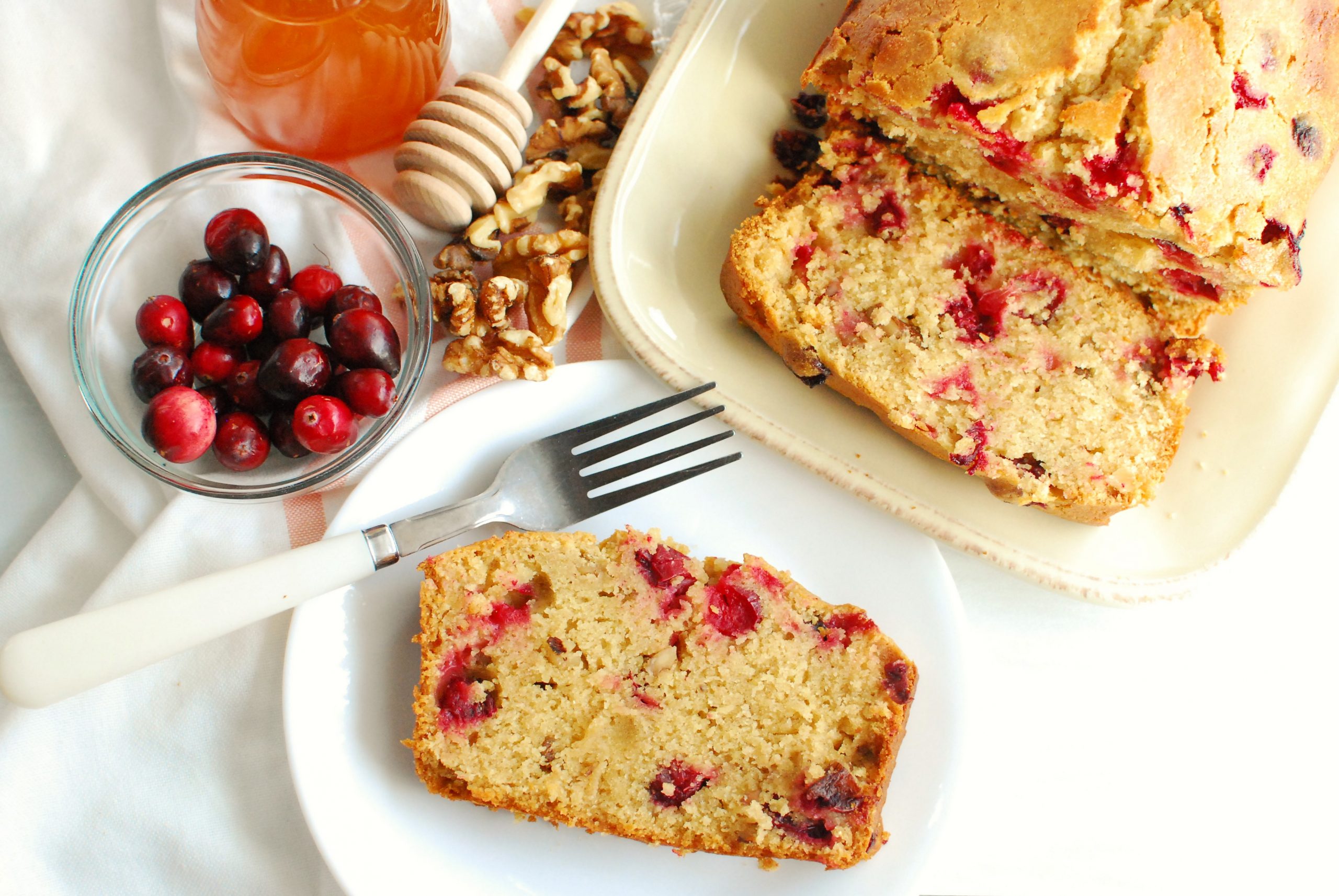 Ingredients
1 cup all-purpose flour

1 cup white whole wheat flour (if you don't have whole wheat flour, just use all-purpose flour)

1 cup medium or fine ground cornmeal (I used white cornmeal)

1/2 cup sugar

1 1/2 tsp. salt

1 1/2 tsp. baking powder

1/2 cup (1 stick) unsalted butter, melted

1/2 cup honey (or maple syrup if you have it on hand)

1 1/4 cup buttermilk

2 large eggs

1 tsp. Vanilla Extract

3/4 cup chopped walnuts (reserving a few whole walnuts for decorating the top of bread)

1 heaping cup to 1 1/2 cups fresh cranberries
Instructions
Directions
Arrange a rack in the center of the oven and preheat oven to 350 degrees Fahrenheit. Butter and flour one 9x5x3 inch loaf pan, or two slightly smaller loaf pans. (I think mine are 8x4x3 inches and I made two smaller loaves) Set aside the greased and floured loaf pans.

In a large bowl, whisk together both flours, cornmeal, sugar, salt and baking powder.

In a smaller bowl, whisk together honey, eggs, buttermilk, melted butter and vanilla extract.

Add the buttermilk mixture to the flour mixture and stir just until blended.

Fold in the cranberries and walnuts.

Divide batter between two smaller loaf pans or into one large loaf pan. Spread evenly. Add the whole walnut halves and place in preheated oven. For smaller loaves bake for 40-50 minutes, or until a skewer inserted into the enter of the loaf comes out clean. For the larger loaf, bake at 60-70 minutes, or until a cake tester comes out clean. Cool loaves in pan on a wire rack for 20 minutes. Invert onto a plate or board. Serve warm with butter or wrap and freeze for future use.
Source
Recipe adapted from Epicurious by Joy the Baker