Cranberry, Kale and Quinoa Stuffed Poblano Peppers and Duck Tacos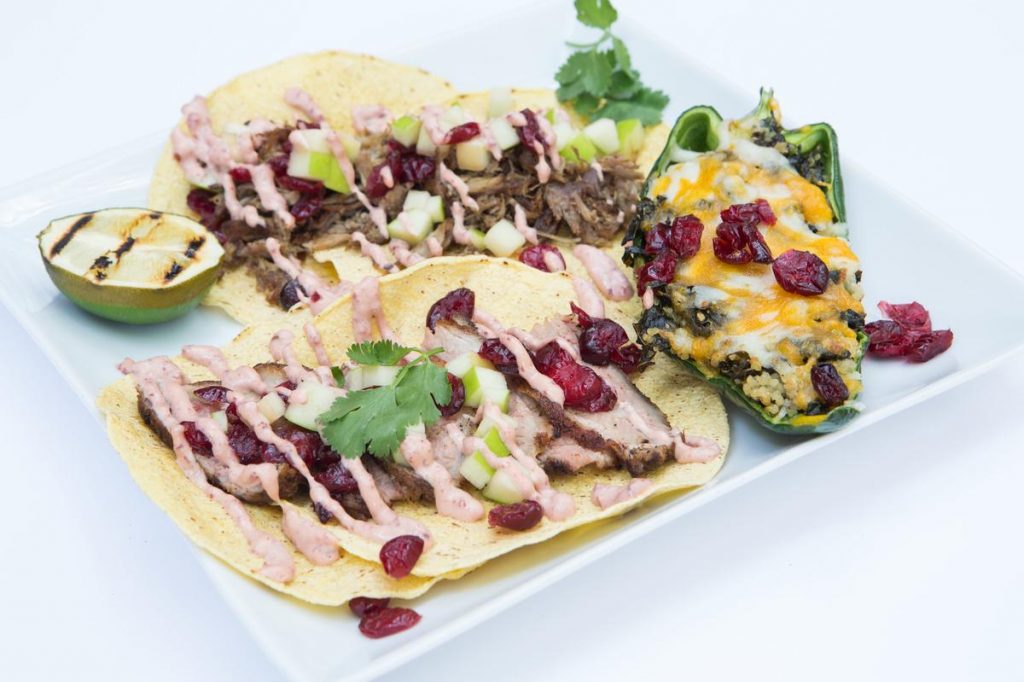 Ingredients
2 Poblano peppers

3 cups kale, chopped

3/4 cup dried cranberries

2 Tbsp canola oil

1/4 cup cilantro, fresh, finely chopped

1/2 head of roasted garlic, chopped

2 Tbsp cream cheese

1/2 cup pepper jack cheese, shredded

1/2 cup quinoa

2 cups water

Salt and pepper to taste

Duck Breast Taco:

1 duck breast

2 corn tortillas, grilled

1/4 cup cranberry and apple salsa*

2 Tbsp cranberry chipotle sour cream*

Salt and pepper to taste
Instructions
Roast Poblano peppers over open flame then cool, cut in half, deseed and set aside.

Cook quinoa with water, salt and pepper, then cool. Roast garlic, then cool.

Saute kale in canola oil until wilted, approximately 3 minutes, and then cool.

Combine cooked quinoa, kale, cranberries, cheeses, cilantro and roasted garlic; season with salt and pepper to taste and mix well.

Stuff halved Poblano peppers with this mixture. Place on a sheet pan and roast at 350 degrees for 10-12 minutes. Serve hot with tacos.

Duck Taco: Score skin side of breast with cross pattern. Season duck breast with salt and pepper and sear in a saute pan skin side down until all fat is rendered out.

Flip over and cook for additional 3 minutes until medium rare; set aside to rest.

Slice duck thinly on a bias, lay slices on the grilled tortillas, top with cranberry apple salsa and drizzle with cranberry chipotle sour cream.