Cranberry Kumquat Sauce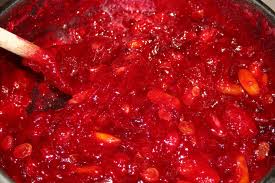 Ingredients
Ingredients for Cranberry Kumquat Sauce
2 cups kumquats, washed and trimmed

3/4 cup sugar

3/4 cup water

1 (12-oz.) bag fresh or frozen cranberries (3 1/2 cups)

1/4 teaspoon salt
Instructions
Directions
Prick kumquats 2 to 3 times with a sharp fork. Cover kumquats generously with cold water in a heavy medium saucepan and bring to a boil. Drain and rinse with cold water, then repeat 2 more times (to remove bitterness).

Bring kumquats, sugar, and 3/4 cup water to a boil in rinsed saucepan over high heat, stirring until sugar has dissolved, then reduce heat and simmer gently, uncovered, stirring occasionally, 15 minutes. Remove from heat and cool kumquats in syrup, about 20 minutes.

Transfer kumquats with a slotted spoon to a bowl, reserving syrup in saucepan. Add cranberries and 1/4 teaspoon salt to syrup and bring to a boil over high heat, stirring occasionally, until cranberries burst, 8 to 12 minutes. Remove from heat.

While cranberries cooks, quarter kumquats lengthwise, discarding any seeds.

Stir quartered kumquats into cranberry mixture and transfer to a bowl. Cool to room temperature, stirring occasionally, about 30 minutes. The sauce can be refrigerated until you're ready to serve, but for best flavor, serve at room temperature.