Cranberry Maple Chia Pudding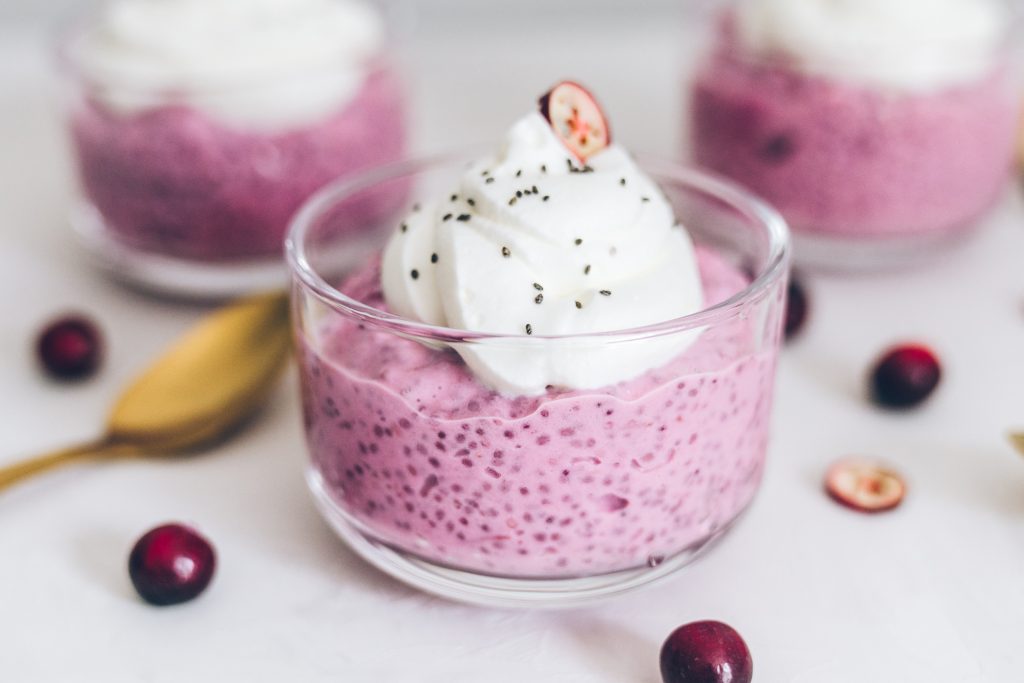 Ingredients
2 cups fresh cranberries (equal to 1 cup purée total)

¼ cup water

6 tablespoons maple syrup, divided (more to taste)

1 cup vanilla almond milk

1 cup 0% Greek yogurt or non-dairy strained yogurt (e.g. almond or coconut)

½ cup chia seeds

optional: whipped cream, lightly sweetened
Instructions
Directions
Place cranberries, water and 3 tablespoons maple syrup in a pan, covered with a lid on medium heat.

Cook, stirring occasionally, until cranberries soften and break, about 5 minutes.

Remove lid and simmer for an additional 7-10 minutes on low as sauce thickens. Set aside to cool.

Once cool, use an immersion blender or pour into food processor and blend until smooth.

In a medium bowl, whisk together almond milk, yogurt and remaining maple syrup.

Pour in cranberry purée and whisk until combined. Pour in chia seeds and whisk thoroughly until dispersed.

Cover with plastic and place in refrigerator for 30 minutes.

Whisk again and place covered in the fridge for at least one hour, or overnight.

Serve with optional whipped cream on top.
Source
Recipe by Carlene Thomas, RDN of Healthfully Ever After