Cranberry Meatloaf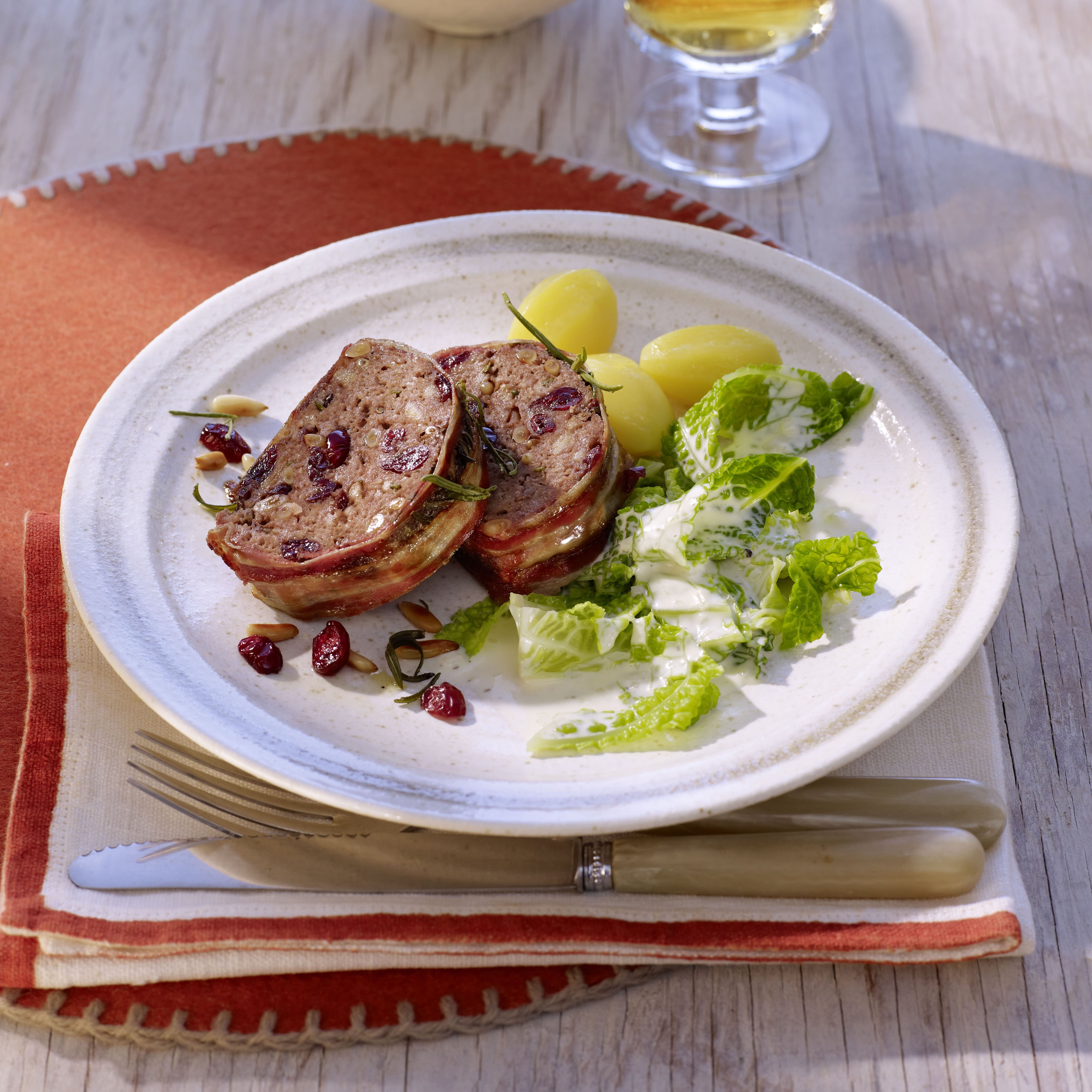 Ingredients
bread roll (from the previous day)

1/2 cup lukewarm milk

1/3 cup pine nuts

3 sprigs of rosemary

2 shallots

2 T olive oil

1 1/8 mixed ground meat

1 egg (medium)

1/3 cup dried cranberries

Salt & pepper

4 slices breakfast bacon

1 3/4 cup savoy cabbage

1 T butter

1 cup whipping cream

Freshly grated nutmeg
Instructions
Directions
Cut bread rolls into slices and soak for 10 minutes in milk. Then knead it with your hands. Roast pine nuts in an ungreased frying pan until golden brown. Strip the rosemary needles from the stems and chop 1/3. Finely dice the shallots. Stew half of the shallots and chopped rosemary in 1 tablespoon of hot oil for 2 minutes.

Mix the ground meat, shallot mixture, egg, pine nuts and cranberries together. Season with salt and pepper. Shape the ground meat mixture with your wet hands to form a meatloaf. Spread the remaining rosemary needles on it. Wrap the slices of bacon around it and rub with 1 tablespoon of oil.

Carefully place the meatloaf on a baking tray lined with parchment paper and roast it in a preheated oven at 400 degrees Fahrenheit in the lower third of the oven for 45 minutes.

In the meantime, clean the savoy cabbage and cut it into strips. Cook the savoy cabbage for 8 minutes in boiling water, drain it and rinse with cold water. Stew the remaining shallots in melted butter for 2 minutes. Pour in 1/3 cup water and cream. Boil it down to half of the amount. Press out the savoy cabbage well, put it int he sauce and season it with salt, pepper and nutmeg.

Let the cranberry meatloaf settle for 5 minutes. Cut the meatloaf into slices and serve it with the creamed savoy cabbage. Boiled potatoes go well with it.
Source
Top 20 Cranberry Recipes to Watch 2014