Cranberry Melon Ball Salad with Feta Cheese, Walnuts, and Baby Spinach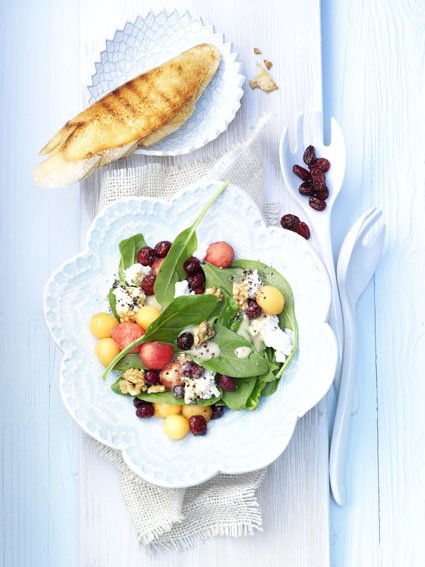 Ingredients
Ingredients for Cranberry Melon Ball Salad with Feta Cheese, Walnuts, and Baby Spinach
1 1/2 tsp. mustard

3 tsp. cranberry juice

1 tsp. salt

4 tsp. olive oil

3 1/2 oz. dried cranberries

1 Cantaloupe melon (arox. 2 lb.)

1 Galia melon (aprox. 2 lb.). Honeydew may be substituted

3/4 lb. Feta cheese

1 3/4 oz. walnuts

2 packages baby spinach (aprox. 1/2 lb.)
Instructions
Directions
Stir the mustard, cranberry juice and salt. Beat the olive oil. Add the cranberries and fold in.

Form some melon balls with the Galia and cantaloupe using a melon all cutter.

Crumble the Feta cheese into chunks.

Roast the walnuts in a pan (no oil) and chop them roughly.

Wash the salad and spin it dry.

Mix all ingredients and drizzle with dressing.

Goes well with a toasted baguette.