Cranberry Mince Filled Empanadas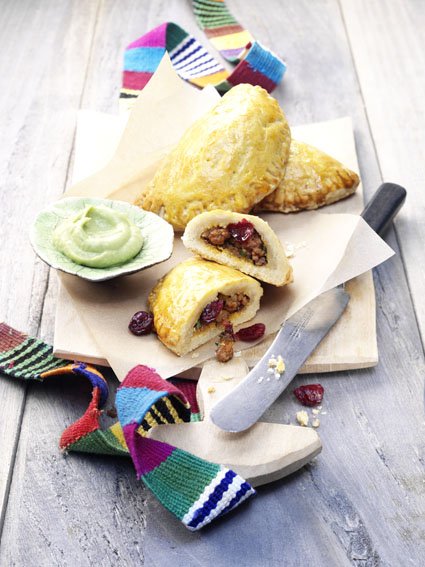 Ingredients
Ingredients for Cranberry Mince Filled Empanadas
½ cup + 1 tbsp milk

1 1/3 cup flour

1 1/2 teaspoon baking powder

½ cup butter

1 onion

1 clove of garlic

2 T olive oil

¼ lb. minced meat

1 T paprika

1 tsp. cumin

1/2 tsp. cayenne pepper

1 ¾ oz. chopped, dried cranberries

3-4 stalks parsley

1 egg yolk (Size M)

Salt to taste
Instructions
Directions
Heat the milk. Mix flour and baking powder. Mix flour, ½ teaspoon salt and butter in small pieces with the dough hook of the hand mixer into a smooth dough. Add milk gradually while kneading. Wrap the dough in plastic wrap and refrigerate for 30 minutes.

In the meantime, peel onion and garlic. Chop onions finely. Finely chop the garlic. Heat oil in a frying pan and fry minced meat till it crumbles. Add onion and garlic and sweat them in a pan. Season with salt, pepper, cumin and cayenne pepper. Add cranberries and let cool.

Wash the parsley, dry shake, pluck leaves from the stems and chop finely. Mix parsley into the minced meat. Roll the dough thinly on floured surface and cut out 12 circles (4 in. diameter). Mix egg yolk and 1 tablespoon milk. Fill the circles with 1 heaping tablespoon of minced meat. Brush edge with egg milk, press down on dough and fold the edges with a fork. Brush pastry with remaining egg milk and place on a lined baking tray. Bake in preheated oven at 350° about 35 minutes or until golden brown. Serve empanadas hot or cold. Serve with guacamole.