Cranberry Mushroom Pasta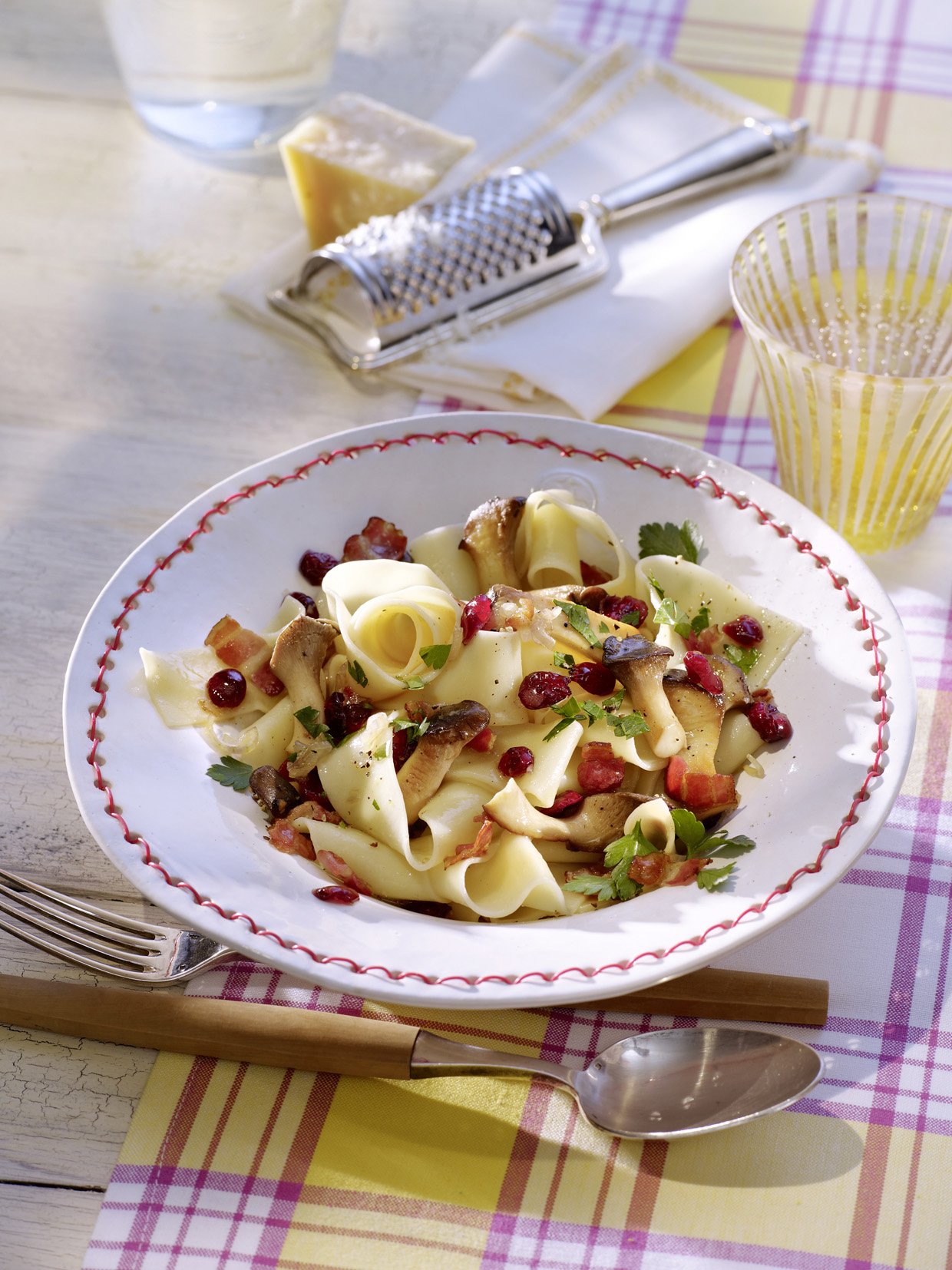 Ingredients
1/4 lb bacon strips

2 shallots

4 cups king oyster mushrooms

4 sprigs of smooth parsley

2/3 lb. pappardelle pasta

Salt

1/3 cup dried cranberries

2 T olive oil

Pepper

1/2 tsp. lemon juice

2 T cold butter

4 T grated Parmesan
Instructions
Directions
Cut bacon into fine strips. Cut shallots in half and then cut them into strips. Clean mushrooms and, depending on their size, cut them in half. Pull the parsley leaves from the stems and finely chop them.

Cook the noodles in accordance with the instructions on the packet. In the meantime. fry the bacon in a large, coated pan until it is crispy. Add the cranberries and shallots and fry them with the bacon for 3 minutes over medium heat. Take the bacon mixture out of the pan and leave it on the side.

Heat the oil in the pan. Fry the mushrooms in it until they are golden brown and season them with salt and pepper. Mix the bacon mixture with this. Strain the noodles and collect 3/4 cups of the water they were boiled in. Pour this water onto the mushroom mixture and bring it to the boil. Season everything with salt and pepper and lemon juice,. Stir in the butter to thicken the mixture, but do not boil it any longer. Mix in the noodles. Serve the mushroom cranberry pasta with parsley and Parmesan sprinkled over the top.
Source
Top 20 Cranberry Recipes to Watch 2014