Cranberry Pear Crepes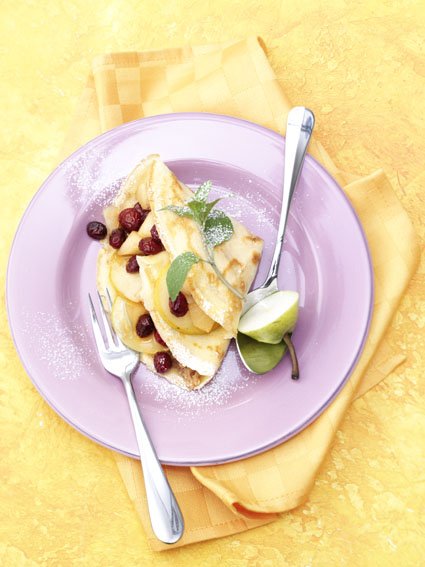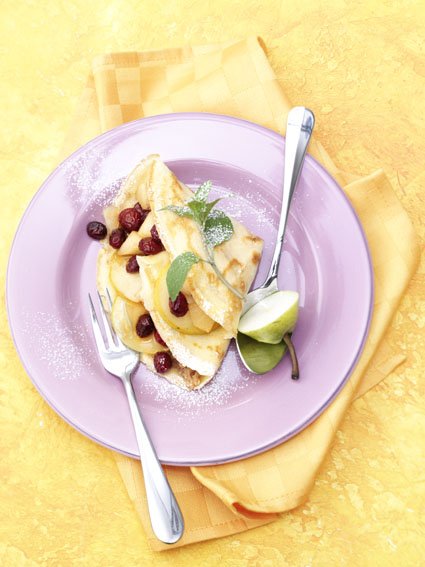 Ingredients
FOR THE CREPE DOUGH:

1 cup all-purpose flour

2 eggs

1/2 cup milk

1/2 cup water

1/4 tsp. salt

2 Tbsp butter, melted

FOR THE CRANBERRY PEAR COMPOTE:

2 cups pears (e.g. Anjou)

1 hint of white wine (or apple juice)

1 walnut-sized piece of ginger

- 1 vanilla bean

2 Tbsp liquid honey

1/3 cup dried cranberries

2-3 Tbsp cranberry juice (100% pure juice)

FOR WALNUT FILLING:

1/3 cup walnuts

1/2-1 orange (juice only)

2 Tbsp cane sugar

Additionally:

Mint for garnishing if desired

Powdered sugar for garnishing
Instructions
Melt butter. Put flour, salt and sugar into bowl. Stir in milk and eggs and at last the melted butter. Let dough rise for 30 minutes.

Quarter pears and peel if desired. Remove core and cut pear in pieces. Put together with white wine in a pot. Peel ginger and grind onto pears. Slice vanilla bean, scrape pulp and place both into pot. Let pears simmer for around five minutes. Pears shouldn't be too soft. Stir in honey and cranberries. Season to taste with cranberry juice.

Grind walnuts in an electric kitchen machine. Mix with orange juice and cane sugar and stir until a creamy dough appears.

Fry crêpes in a bit of oil. Put walnut filling on top and fold crêpes. Remove vanilla bean from pear compote and put compote on top of crêpes. If desired garnish with mint and dredge with powdered sugar.