Cranberry Pecan Muffins with Streusel Topping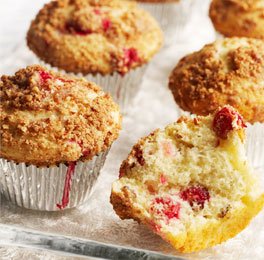 Ingredients
Ingredients for Cranberry Pecan Muffins with Streusel Topping
For the Streusel - 1/4 cup light brown sugar

1/4 cup all-purpose flour

1 teaspoon cinnamon

1/4 teaspoon nutmeg

1/4 teaspoon kosher salt

1/4 cup pecan pieces

1 1/2 tablespoons cold unsalted butter, diced

For the Muffins - 5 tablespoons unsalted butter

2 cups all-purpose flour

2/3 cup granulated sugar

1 tablespoon baking powder

1/2 teaspoon kosher salt

2 large eggs

1 cup buttermilk

1 teaspoon vanilla extract

1 cup whole cranberries, roughly chopped

1/2 cup pecan pieces, roughly chopped
Instructions
Directions
Adjust oven rack to middle position and heat oven to 375 degrees. Prepare 12-cup muffin tin by lightly spraying indentations and rims surrounding them with nonstick spray.

FOR THE STREUSEL: Combine all ingredients except butter in the bowl of a food processor fitted with metal blade. Pulse mixture until all ingredients are evenly distributed and pecans are coarsely ground. Scatter butter over top of mixture and pulse until no visible pieces of butter remain and it resembles coarse sand; set aside.

FOR THE MUFFINS: Melt butter and allow to cool slightly while you prepare the rest of ingredients. In a large bowl whisk flour together with granulated sugar, baking powder and salt. In a medium bowl whisk the eggs together with the buttermilk, vanilla and cooled, melted butter. Using a rubber scraper, stir liquid ingredients into dry while making sure that ingredients at the bottom of the bowl are thoroughly incorporated. Gently fold in cranberries and pecans until evenly distributed.

ASSEMBLE THE MUFFINS: Divide the batter equally among the tins. Sprinkle streusel topping evenly over the batter in each muffin cup, lightly patting any stray topping back onto the batter with your fingertips.

Bake muffins for 25 to 30 minutes till golden brown and a toothpick inserted into the center of one muffin comes out with just a few moist crumbs attached. Allow muffins to cool in the pan for at least 15 minutes and then transfer to a wire rack. Serve warm or at room temperature.

CHEF'S NOTES: This recipe was tested using 12-cup muffin tins that hold 1/2 cup of batter when filled to the top. Smaller or larger muffin tins may be used; however, baking time may need to be adjusted. Fill any empty muffin indentations with water to ensure even baking.
Source
Source: Chef Kristen Widican, Boston, Massachusetts