Cranberry Pecan Relish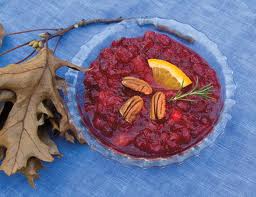 Ingredients
Ingredients for Cranberry Pecan Relish
1 lb. fresh cranberries, rinsed

1-1/4 cups water

2 cups sugar

1/2 tsp orange zest

1 cup orange marmalade

1 cup cup toasted, chopped pecans

1/2 tsp. cinnamon

1/4 tsp. ground ginger
Instructions
Directions
In large saucepan heat water with sugar until dissolved. Add cranberies and cook until berries burst. Reduce heat.

Add orange zest, orange marmalade, 3/4 cup toasted pecans, cinnamon and ginger. Mix well.

Pour into serving bowl and chill covered with plastic wrap. Top with a few orange slices and remaining 1/4 cup toasted pecans just before serving.